Full Time
Salary: ₹7000-12000/Month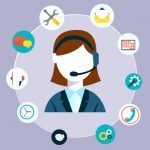 Website BPO Company
609 Views, 452 Applied
Total Requirements – 100
Salary- ₹7000-12000/-Month
Qualification- 12th Minimum
Job Summary
To assist the customers in solving queries related to feedback, requests, complaints etc. Ensuring timely and professional responses to all the queries, requests & complaints received enabling satisfaction of the customer.
Assist customers via email or chat
Typing speed 25 WPM & 95% accuracy
Basic Knowledge of online grocery shopping and should be app savy
Good comprehension skills
Analytical & Probing skills
Open to 24/7 environment
JOB DESCRIPTION
Need to respond to customer via Email/Chat/Call
Handle queries and complaints of customers
Transaction handling Services, Problem Solving Efficiency
Numerical Ability, High level of accuracy
Energetic, friendly and approachable individuals who that understand the importance of great customer service
Responsible to deliver high quality and productivity results that meet the identified targets
Ability handle tough situation with customer
Strong ability to multitask and take fast decisions independently
Maintains composure and patience with customers
Correctly follow and implement different quality standards/definition documents
This job can also be widely searched as remote job, graduate job, freshers job
To apply for this job please visit forms.gle.