Full Time
Salary: ₹ 8000-12000/-Month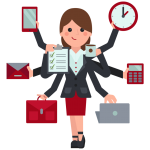 Website Reputed Organisation
Urgently Hiring.!
Need a candidate who handle the office work.
Fix the schedule for appointment.
Have good communication skills.
Hardworking and focused.
Should be good in Computer Application.
Should be smart , energetic.
Qualification- 12th Minimum
Freshers and Experienced both can apply
Process –
Registration with JBR GROUP

Telephonic Interview

Selection

Joining
Share your Resume on WhatsApp – 07247666888
If you are having any problem / issue with our process or with any Executive of any branch, You can drop mail to HR & Admin Mrs. Nisha Thakur on – hr@jbrconsultant.com , we will fix it within 24 hours.!
Our Branches – Noida , Bangalore, Indore, Delhi, Bhopal