Mineral Nutrition Class 11 MCQ is one of the best strategies to prepare for the CBSE Class 11 Board exam. If you want to complete a grasp concept or work on one's score, there is no method except constant practice. Students can improve their speed and accuracy by doing more MCQ on Plant Kingdom Class 11, which will help them all through their board test.
Mineral Nutrition Class 11 MCQ Questions with Answer
Class 11 Biology MCQ with answers are given here to chapter 12 Mineral Nutrition. These MCQs are based on the latest CBSE board syllabus and relate to the latest Class 11 BIology syllabus. By Solving these Class 11 MCQs, you will be able to analyze all of the concepts quickly in the chapter and get ready for the Class 11 Annual exam.
Learn Class 11 Mineral Nutrition MCQs with answers pdf free download according to the latest CBSE and NCERT syllabus. Students should prepare for the examination by solving CBSE Class 11 Biology Mineral Nutrition MCQ with answers given below
Question 1. A plant requires magnesium for
(a) protein synthesis
(b) chlorophyll synthesis
(c) cell wall development
(d) holding cells together.
Question 2. Which of the following elements is responsible for maintaining turgor in cells?
(a) Magnesium
(b) Sodium
(c) Potassium
(d) Calcium
Question 3. Which one of the following elements is not an essential micronutrient for plant growth?
(a) Zn
(b) Cu
(c) Ca
(d) Mn
Question 4. Bundle sheath cells
(a) are rich in PEP carboxylase
(b) lack RuBisCO
(c) lack both RuBisCO and PEP carboxylase
(d) are rich in RuBisCO.
Question 5. Sulphur is an important nutrient for optimum growth and productivity in
(a) oilseed crops
(b) pulse crops
(c) cereals
(d) fibre crops.
Question 6. A plant in your garden avoids photorespiratory losses, has improved water use efficiency, shows high rates of photosynthesis at high temperatures and has improved efficiency of nitrogen utilisation.
In which of the following physiological groups would you assign this plant?
(a) CAM
(b) Nitrogen fixer
(c) C3
(d) C4
Question 7. Which is essential for the growth of root tip?
(a) Zn
(b) Fe
(c) Ca
(d) Mn
Question 8. CAM helps the plants in
(a) conserving water
(b) secondary growth
(c) disease resistance
(d) reproduction.
Question 9. In which of the following forms is iron absorbed by plants?
(a) Ferric
(b) Ferrous
(c) Free element
(d) Both ferric and ferrous
Question 10. Minerals known to be required in large amounts for plant growth include
(a) potassium, phosphorus, selenium, boron
(b) magnesium, sulphur, iron, zinc
(c) phosphorus, potassium, sulphur, calcium
(d) calcium, magnesium, manganese, copper.
(2015 Cancelled)
Question 11. In which of the following all three are macronutrients?
(a) Molybdenum, magnesium, manganese
(b) Nitrogen, nickel, phosphorus
(c) Boron, zinc, manganese
(d) Iron, copper, molybdenum
Question 12. The oxygen evolved during photosynthesis, comes from water molecules. Which one of the following pairs of elements is involved in this reaction?
(a) Magnesium and Molybdenum
(b) Magnesium and Chlorine
(c) Manganese and Chlorine
(d) Manganese and Potassium
Question 13. Which of the following elements is a constituent of biotin?
(a) Magnesium
(b) Calcium
(c) Phosphorus
(d) Sulphur
Question 14. Deficiency symptoms of nitrogen and potassium are visible first in
(a) senescent leaves
(b) young leaves
(c) roots
(d) buds.
Question 15. A few normal seedlings of tomato were kept in a dark room. After a few days they were found to have become white-coloured like albinos. Which of the following terms will you use to describe them?
(a) Mutated
(b) Embolised
(c) Etiolated
(d) Defoliated
Question 16. If by radiation all nitrogenase enzyme are inactivated,
then there will be no
(a) fixation of nitrogen in legumes
(b) fixation of atmospheric nitrogen
(c) conversion from nitrate to nitrite in legumes
(d) conversion from ammonium to nitrate in soil.
Question 17. Best defined function of manganese in green plants is
(a) photolysis of water
(b) Calvin cycle
(c) nitrogen fixation
(d) water absorption.
Question 18. Which of the following is a flowering plant with nodules containing filamentous nitrogen-fixing microorganism?
(a) Crotalaria juncea
(b) Cycas revoluta
(c) Cicer arietinum
(d) Casuarina equisetifolia
Question 19. Which one of the following is not an essential mineral element for plants while the remaining three are?
(a) Iron
(b) Manganese
(c) Cadmium
(d) Phosphorus
Question 20. Roots of which plant contains a red pigment which
have affinity for oxygen?
(a) Carrot
(b) Soybean
(c) Mustard
(d) Radish
Question 21. Which one of the following elements in plants is not remobilised?
(a) Phosphorus
(b) Calcium
(c) Potassium
(d) Sulphur
Question 22. Which of the following is free-living aerobic nonphotosynthetic nitrogen-fixing bacterium?
(a) Nostoc
(b) Azospirillum
(c) Rhizobium
(d) Azotobacter
Question 23. A non-photosynthetic aerobic nitrogen fixing soil bacterium is
(a) Rhizobium
(b) Clostridium
(c) Azotobacter
(d) Klebsiella.
Whoever needs to take the CBSE Class 11 Board Exam should look at this MCQ. To the Students who will show up in CBSE Class 11 Biology Board Exams, It is suggested to practice more and more questions. Aside from the sample paper you more likely had solved. These Mineral Nutrition Class 11 MCQ are ready by the subject specialists themselves.
Question 24. Enzyme first used for nitrogen fixation
(a) nitrogenase
(b) nitroreductase
(c) transferase
(d) transaminase.
Question 25. Manganese is required in
(a) plant cell wall formation
(b) photolysis of water during photosynthesis
(c) chlorophyll synthesis
(d) nucleic acid synthesis.
Question 26. An element playing important role in nitrogen fixation is
(a) molybdenum
(b) copper
(c) manganese
(d) zinc.
Question 27. Which one of the following is not a micronutrient?
(a) Molybdenum
(b) Magnesium
(c) Zinc
(d) Boron
Question 28. What will be the number of Calvin cycles to generate one molecule of hexose?
(a) 8
(b) 9
(c) 4
(d) 6
Question 29. Farmers in a particular region were concerned that pre-mature yellowing of leaves of a pulse crop might cause decrease in the yield. Which treatment could be most beneficial to obtain maximum seed yield?
(a) Application of iron and magnesium to promote synthesis of chlorophyll
(b) Frequent irrigation of the crop
(c) Treatment of the plants with cytokinins along with a small dose of nitrogenous fertilizer
(d) Removal of all yellow leaves and spraying the remaining green leaves with 2, 4,5-trichlorophenoxy acetic acid
Question 30. The deficiencies of micronutrients, not only affect growth of plants but also vital functions such as photosynthetic and mitochondrial electron flow.
Among the list given below, which group of three elements shall affect most, both photosynthetic and mitochondrial electron transport?
(a) Co, Ni, Mo
(b) Ca, K, Na
(c) Mn, Co, Ca
(d) Cu, Mn, Fe
Question 31. Gray spots of oat are caused by deficiency of
(a) Cu
(b) Zn
(c) Mn
(d) Fe.
Question 32. The primary acceptor, during CO2 fixation in C3 plants, is
(a) phosphoenolpyruvate (PEP)
(b) ribulose 1, 5-diphosphate (RuDP)
(c) phosphoglyceric acid (PGA)
(d) ribulose monophosphate (RMP).
Question 33. The carbon dioxide acceptor in Calvin cycle/C3-plants is
(a) phosphoenol pyruvate (PEP)
(b) ribulose 1, 5-diphosphate (RuDP)
(c) phosphoglyceric acid (PGA)
(d) ribulose monophosphate (RMP).
Question 34. Which one of the following is wrong statement?
(a) Anabaena and Nostoc are capable of fixing nitrogen in free-living state also.
(b) Root nodule forming nitrogen fixers live as aerobes under free-living conditions.
(c) Phosphorus is a constituent of cell membranes,certain nucleic acids and all proteins.
(d) Nitrosomonas and Nitrobacter are chemoautotrophs.
Question 35. Boron in green plants assists in
(a) activation of enzymes
(b) acting as enzyme co-factor
(c) photosynthesis
(d) sugar transport.
Question 36. Which two distinct microbial processes are responsible for the release of fixed nitrogen as dinitrogen gas (N2) to the atmosphere?
(a) Aerobic nitrate oxidation and nitrite reduction
(b) Decomposition of organic nitrogen and conversion of dinitrogen to ammonium compounds
(c) Enteric fermentation in cattle and nitrogen fixation by Rhizobium in root nodules of legumes
(d) Anaerobic ammonium oxidation and denitrification
Question 37. Plants take zinc in the form of
(a) ZnSO4
(b) Zn++
(c) ZnO
(d) Zn.
Question 38. For its action, nitrogenase requires
(a) high input of energy
(b) light
(c) Mn2+
(d) super oxygen radicals.
Question 39. Mg is a component of
(a) chlorophyll
(b) cytochrome
(c) haemoglobin
(d) haemocyanin.
Question 40. Which one of the following elements is almost nonessential for plants?
(a) Zn
(b) Na
(c) Ca
(d) Mo
Question 41. When the plants are grown in magnesium deficient but urea rich soil, the symptoms expressed are
(a) yellowish leaves
(b) colourless petiole
(c) dark green leaves
(d) shoot apex die.
Question 42. Which of the following is not caused by deficiency of mineral nutrition?
(a) Etiolation
(b) Shortening of internode
(c) Necrosis
(d) Chlorosis
Question 43. Which one is an essential mineral, not constituent of any enzyme but stimulates the activity of many enzymes?
(a) Zn
(b) Mn
(c) K
(d) Mg
Question 44. Which of the following elements plays an important role in biological nitrogen fixation?
(a) Copper
(b) Molybdenum
(c) Zinc
(d) Manganese
Question 45. Phosphorus and nitrogen ions generally get depleted in soil because they usually occur as
(a) neutral ions
(b) negatively charged ions
(c) positively charged ions
(d) both positively and negatively charged but disproportionate mixture.
Question 46. Mineral associated with cytochrome is
(a) Cu
(b) Mg
(c) Cu and Mg
(d) Fe.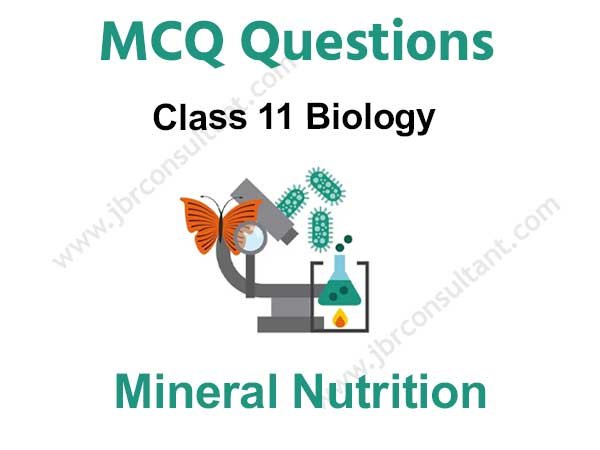 You can easily get good marks If you study with the help of Class 11 Mineral Nutrition MCQ. We trust that information provided is useful for you. NCERT Mineral Nutrition Class 11 MCQ PDF Free Download would without a doubt create positive results.
We hope the information shared above in regards to MCQ on Mineral Nutrition Class 11 with Answers has been helpful to you. if you have any questions regarding CBSE Class 11 BIology Solutions MCQs Pdf, write a comment below and we will get back to you as soon as possible.
Frequently Asked Question (FAQs)
How many MCQ questions are there in Class 11 chapter 12 BIology?

In Class 11 chapter 12 BIology, we have provided 46 Important MCQ Questions, But in the future, we will add more MCQs so that you can get good marks in the Class 11 exam.
Can we score good marks in Class 11 BIology with the help of Mineral Nutrition MCQ Questions?

Yes, MCQ Question is one of the best strategies to make your preparation better for the CBSE Board Exam. It also helps to know the student's basic understanding of each chapter. So, You can score good marks in the Class 11 BIology exam.