Animal Kingdom Class 11 MCQ is one of the best strategies to prepare for the CBSE Class 11 Board exam. If you want to complete a grasp concept or work on one's score, there is no method except constant practice. Students can improve their speed and accuracy by doing more MCQ on Plant Kingdom Class 11, which will help them all through their board test.
Animal Kingdom Class 11 MCQ Questions with Answer
Class 11 Biology MCQ with answers are given here to chapter 4 Animal Kingdom. These MCQs are based on the latest CBSE board syllabus and relate to the latest Class 11 BIology syllabus. By Solving these Class 11 MCQs, you will be able to analyze all of the concepts quickly in the chapter and get ready for the Class 11 Annual exam.
Learn Class 11 Animal Kingdom MCQs with answers pdf free download according to the latest CBSE and NCERT syllabus. Students should prepare for the examination by solving CBSE Class 11 Biology Animal Kingdom MCQ with answers given below
Question 1. Single filament of Nostoc without mucilage sheath is called as
(a) colony
(b) mycelium
(c) trichome
(d) hyphae
Question 2. Which one of the following statements about certain given animals is correct?
(a) Roundworms (Aschelminthes) are pseudocoelomates.
(b) Molluscs are acoelomates.
(c) Insects are pseudocoelomates.
(d) Flatworms (Platyhelminthes) are coelomates.
Question 3. Select the taxon mentioned that represents both marine and fresh water species.
(a) Echinoderms
(b) Ctenophora
(c) Cephalochordata
(d) Cnidaria
Question 4. One of the representatives of Phylum Arthropoda is
(a) puffer fish
(b) flying fish
(c) cuttle fish
(d) silver fish.
Question 5. Which of the following statements are true for the Phylum Chordata?
(A) In Urochordata, notochord extends from head to tail and it is present throughout their life.
(B) In Vertebrata, notochord is present during the embryonic period only.
(C) Central nervous system is dorsal and hollow.
(D) Chordata is divided into 3 subphyla : Hemichordata, Tunicata and Cephalochordata.
(a) (D) and (C)
(b) (C) and (A)
(c) (A) and (B)
(d) (B) and (C)
Question 6. Coelom is found between
(a) body wall and ectoderm
(b) ectoderm and endoderm
(c) mesoderm and body wall (endoderm)
(d) mesoderm and ectoderm.
Question 7. Which among these is the correct combination of aquatic mammals?
(a) Dolphins, Seals, Trygon
(b) Whales, Dolphins, Seals
(c) Trygon, Whales, Seals
(d) Seals, Dolphins, Sharks
Question 8. Which one of the following categories of animals, is correctly described with no single exception in it?
(a) All reptiles possess scales, have a three chambered heart and are cold blooded (poikilothermal).
(b) All bony fishes have four pairs of gills and anoperculum on each side.
(c) All sponges are marine and have collared cells.
(d) All mammals are viviparous and possess diaphragm for breathing.
Question 9. Which of the following animals does not undergo metamorphosis?
(a) Earthworm
(b) Tunicate
(c) Moth
(d) Starfish
Question 10. Which of the following features is not present in the Phylum Arthropoda?
(a) Parapodia
(b) Jointed appendages
(c) Chitinous exoskeleton
(d) Metameric segmentation
Question 11. Pouched mammals are known as
(a) prototherians
(b) metatherians
(c) eutherians
(d) therians
Question 12. Which group of animals belong to the same phylum?
(a) Prawn, Scorpion, Locusta
(b) Sponge, Sea anemone, Starfish
(c) Malarial parasite, Amoeba, Mosquito
(d) Earthworm, Pinworm, Tapeworm
Question 13. Which one of the following groups of animals reproduces only by sexual means?
(a) Cnidaria
(b) Porifera
(c) Protozoa
(d) Ctenophora
Question 14. Which one of the following pairs of animals comprises 'jawless fishes'?
(a) Mackerals and rohu
(b) Lampreys and hag fishes
(c) Guppies and hag fishes
(d) Lampreys and eels
Question 15. Which one of the following statements is totally wrong about the occurrence of notochord, while the other three are correct?
(a) It is present only in larval tail in ascidian.
(b) It is replaced by a vertebral column in adult frog.
(c) It is absent throughout life in humans from the very beginning.
(d) It is present throughout life in Amphioxus.
Question 16. Taenia saginata differs from Taenia solium in
(a) absence of scolex hooks
(b) absence of scolex hooks and uterine branching
(c) absence of scolex hooks and presence of both male and female reproductive organs
(d) presence of scolex hooks.
Question 17. In which of the following, notochord is present in embryonic stage?
(a) All chordates
(b) Some chordates
(c) Vertebrates
(d) Non chordates
Question 18. Which is the example of platyhelminthes ?
(a) Entamoeba
(b) Plasmodium
(c) Wuchereria
(d) Schistosoma
Question 19. Which one of the following phyla is correctly matched with its two general characteristics?
(a) Echinodermata – pentamerous radial symmetry and mostly internal fertilization
(b) Mollusca – normally oviparous and development through a trochophore or veliger larva
(c) Arthropoda – body divided into head, thorax and abdomen and respiration by tracheae
(d) Chordata – notochord at some stage and separate anal and urinary openings to the outside.
Question 20. Which are exclusively viviparous ?
(a) Bony fishes
(b) Cartilagenous fishes
(c) Sharks
(d) Whales
Whoever needs to take the CBSE Class 11 Board Exam should look at this MCQ. To the Students who will show up in CBSE Class 11 Biology Board Exams, It is suggested to practice more and more questions. Aside from the sample paper you more likely had solved. These Animal Kingdom Class 11 MCQ are ready by the subject specialists themselves.
Question 21. Two common characters found in centipede, cockroach and crab are
(a) book lungs and antennae
(b) compound eyes and anal cerci
(c) jointed legs and chitinous exoskeleton
(d) green gland and tracheae.
Question 22. Temperature changes, in the environment, affect most of the animals which are
(a) poikilothermic
(b) homoiothermic
(c) aquatic
(d) desert living.
Question 23. Cleavage in mammals is
(a) holoblastic equal
(b) holoblastic unequal
(c) superficial
(d) discoidal.
Question 24. The egg case in female cockroach is formed by secretion of
(a) collaterial gland
(b) mushroom gland
(c) conglobate gland
(d) prothoracic gland
Question 25. In contrast to annelids the platyhelminthes show
(a) absence of body cavity
(b) bilateral symmetry
(c) radial symmetry
(d) presence of pseudocoel.
Question 26. A chordate character is
(a) gills
(b) spiracles
(c) post-anal tail
(d) chitinous exoskeleton.
Question 27. Which of the following is an example of platyhelminthes?
(a) Plasmodium
(b) Schistosoma
(c) Trypanosoma
(d) Wuchereria
Question 28. Which of the following is correctly matched?
(a) Human -Renal portal system
(b) Earthworm – Closed circulatory system
(c) Cockroach – Nephridia
(d) None of the above
Question 29. Most appropriate term to describe the life cycle of Obelia is
(a) metamorphosis
(b) neoteny
(c) metagenesis
(d) all of these.
Question 30. Cockroaches are brown or black bodied animals that are included in class _______ of phylum _______.
(a) Reptilia; Annelida
(b) Insecta; Arthropoda
(c) Insecta; Annelida
(d) Reptilia; Arthropoda
Question 31. Presence of gills in the tadpole of frog indicates that
(a) fish were amphibious in the past
(b) fish evolved from frog-like ancestors
(c) frogs will have gills in future
(d) frogs evolved from gilled ancestors.
Question 32. Which one of the following animals possesses nerve cells but no nerves?
(a) Hydra
(b) Tapeworm
(c) Earthworm
(d) Frog's tadpole
Question 33. Organ Pipe Coral is
(a) Tubipora
(b) Astraea
(c) Helipora
(d) Fungia.
Question 34. Antedon belongs to which of the following class?
(a) Asteroidea
(b) Ophiuroidea
(c) Crinoidea
(d) Echinoidea
Question 35. The excretory structures of flatworms/ Taenia are
(a) flame cells
(b) protonephridia
(c) Malpighian tubules
(d) green glands.
Question 36. The organisms attached to the substratum, generally, possess
(a) one single opening of the digestive canal
(b) cilia on the surface to create water current
(c) radial symmetry
(d) asymmetrical body.
Question 37. Ascaris larva is called
(a) cysticercus
(b) rhabditiform
(c) hexacanth
(d) onchosphere.
Question 38. Which one of the following features is common in silverfish, scorpion, dragonfly and prawn?
(a) Three pairs of legs and segmented body.
(b) Chitinous cuticle and two pairs of antennae.
(c) Jointed appendages and chitinous exoskeleton.
(d) Cephalothorax and trachae.
Question 39. Feet of kingfisher are modified for
(a) wading
(b) perching
(c) running
(d) catching.
Question 40. How many ovaries are found in birds ?
(a) One
(b) Two
(c) Three
(d) Many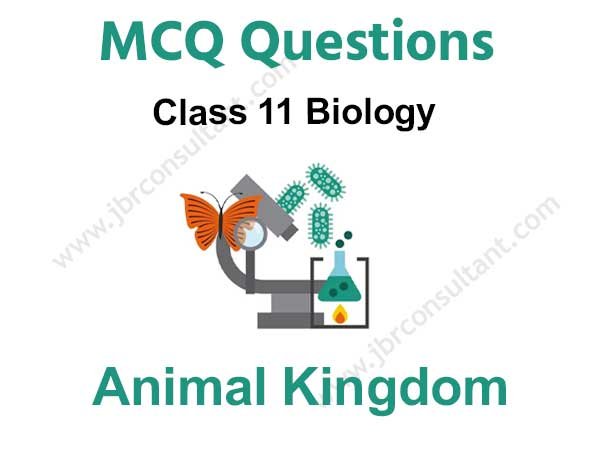 You can easily get good marks If you study with the help of Class 11 Animal Kingdom MCQ. We trust that information provided is useful for you. NCERT Animal Kingdom Class 11 MCQ PDF Free Download would without a doubt create positive results.
We hope the information shared above in regards to MCQ on Animal Kingdom Class 11 with Answers has been helpful to you. if you have any questions regarding CBSE Class 11 BIology Solutions MCQs Pdf, write a comment below and we will get back to you as soon as possible.
Frequently Asked Question (FAQs)
How many MCQ questions are there in Class 11 chapter 4 BIology?

In Class 11 chapter 4 BIology, we have provided 40 Important MCQ Questions, But in the future, we will add more MCQs so that you can get good marks in the Class 11 exam.
Can we score good marks in Class 11 BIology with the help of Animal Kingdom MCQ Questions?

Yes, MCQ Question is one of the best strategies to make your preparation better for the CBSE Board Exam. It also helps to know the student's basic understanding of each chapter. So, You can score good marks in the Class 11 BIology exam.