Plant Kingdom Class 11 MCQ is one of the best strategies to prepare for the CBSE Class 11 Board exam. If you want to complete a grasp concept or work on one's score, there is no method except constant practice. Students can improve their speed and accuracy by doing more MCQ on Plant Kingdom Class 11, which will help them all through their board test.
Plant Kingdom Class 11 MCQ Questions with Answers
Class 11 Biology MCQ with answers are given here to chapter 3 Plant Kingdom. These MCQs are based on the latest CBSE board syllabus and relate to the latest Class 11 BIology syllabus. By Solving these Class 11 MCQs, you will be able to analyze all of the concepts quickly in the chapter and get ready for the Class 11 Annual exam.
Learn Class 11 Plant Kingdom MCQs with answers pdf free download according to the latest CBSE and NCERT syllabus. Students should prepare for the examination by solving CBSE Class 11 Biology Plant Kingdom MCQ with answers given below
Question 1. Which one of the following is categorised under living fossils ?
(a) Pinus
(b) Cycas
(c) Selaginella
(d) Metasequoia
Question 2. Phylogenetic system of classification is based on
(a) morphological features
(b) chemical constituents
(c) floral characters
(d) evolutionary relationships.
Question 3. Mannitol is the stored food in
(a) Porphyra
(b) Fucus
(c) Gracillaria
(d) Chara.
Question 4. Top-shaped multiciliate male gametes and the mature seed which bears only one embryo with two cotyledons, are characterised features of
(a) cycads
(b) conifers
(c) polypetalous angiosperms
(d) gamopetalous angiosperms.
Question 5. Which one of the following is a correct statement?
(a) Pteridophyte gametophyte has a protonemal and leafy stage.
(b) In gymnosperms, female gametophyte is freeliving.
(c) Antheridiophores and archegoniophores are present in pteridophytes.
(d) Origin of seed habit can be traced in pteridophytes.
Question 6. Phylogenetic classification is one which is based on
(a) overall similarities
(b) utilitarian system
(c) habits of plants
(d) common evolutionary descent.
Question 7. Which of the following pairs is of unicellular algae?
(a) Laminaria and Sargassum
(b) Gelidium and Gracilaria
(c) Anabaena and Volvox
(d) Chlorella and Spirulina
Question 8. Male gametes are flagellated in
(a) Ectocarpus
(b) Spirogyra
(c) Polysiphonia
(d) Anabaena.
Question 9. Transfusion tissue is present in the leaves of
(a) Pinus
(b) Dryopteris
(c) Cycas
(d) both (a) and (c).
Question 10. The pyrenoids are made up of
(a) proteinaceous centre and starchy sheath
(b) core of nucleic acid surrounded by protein sheath
(c) core of protein surrounded by fatty sheath
(d) core of starch surrounded by sheath of protein.
Question 11. Isogamous condition with non-flagellated gametes is found in
(a) Volvox
(b) Fucus
(c) Chlamydomonas
(d) Spirogyra.
Question 12. Which of the following plants produces seeds but not flowers?
(a) Maize
(b) Mint
(c) Peepal
(d) Pinus
Question 13. The product of conjugation in Spirogyra or fertilization of Chlamydomonas is
(a) zygospore
(b) zoospore
(c) oospore
(d) carpospore.
Question 14. In Pinus, the pollen grain has 6 chromosomes then in its endosperm will have
(a) 12
(b) 18
(c) 6
(d) 24.
Question 15. Ulothrix can be described as a
(a) filamentous alga lacking flagellated reproductive stages
(b) membranous alga producing zoospores
(c) filamentous alga with flagellated reproductive stages
(d) non-motile colonial alga lacking zoospores.
Question 16. Turpentine is got from
(a) angiospermous wood
(b) bryophytes
(c) gymnospermous wood
(d) ferns.
Question 17. Which one of the following is heterosporous?
(a) Adiantum
(b) Equisetum
(c) Dryopteris
(d) Salvinia
Question 18. If the cells of root in wheat plant have 42 chromosomes, then the no. of chromosome in the cell of pollen grain is
(a) 14
(b) 21
(c) 28
(d) 42
Question 19. In which group of the following would you place the plants having vascular tissue and lacking seeds?
(a) Algae
(b) Fungi
(c) Bryophytes
(d) Pteridophytes
Question 20. Which one is a wrong statement?
(a) Haploid endosperm is typical feature of Gymnosperms.
(b) Brown algae have chlorophyll a and c and fucoxanthin.
(c) Archegonia are found in Bryophyta, Pteridophyta and Gymnosperms.
(d) Mucor has biflagellate zoospores.
Whoever needs to take the CBSE Class 11 Board Exam should look at this MCQ. To the Students who will show up in CBSE Class 11 Biology Board Exams, It is suggested to practice more and more questions. Aside from the sample paper you more likely had solved. These Plant Kingdom Class 11 MCQ are ready by the subject specialists themselves.
Question 21. Which one of the following is common to multicellular fungi, filamentous algae and protonema of mosses?
(a) Diplontic life cycle
(b) Members of Kingdom Plantae
(c) Mode of nutrition
(d) Multiplication by fragmentation
Question 22. In a moss, the sporophyte
(a) manufactures food for itself, as well as for thegametophyte
(b) is partially parasitic on the gametophyte
(c) produces gametes that give rise to the gametophyte
(d) arises from a spore produced from the gametophyte.
Question 23. In which portion of Cycas diploxylic vascular bundles are found ?
(a) Root
(b) Stem
(c) Leaflet
(d) Rachis and leaflet
Question 24. Select one of the following pairs of important features distinguishing Gnetum from Cycas and Pinus and showing affinities with angiosperms.
(a) Perianth and two integuments
(b) Embryo development and apical meristem
(c) Absence of resin duct and leaf venation
(d) Presence of vessel elements and absence of archegonia
Question 25. The plant body of moss (Funaria) is
(a) completely sporophyte
(b) predominantly gametophyte with sporophyte
(c) completely gametophyte
(d) predominantly sporophyte with gametophyte.
Question 26. Bryophytes are dependent on water, because
(a) water is essential for their vegetative propagation
(b) the sperms can easily reach upto egg in the archegonium
(c) archegonium has to remain filled with water for fertilization
(d) water is essential for fertilization for their homosporous nature.
Question 27. The heart shaped fern prothallus is
(a) gametophyte
(b) sporophyte
(c) saprophyte
(d) gamete
Question 28. Dichotomous branching is found in
(a) liverworts
(b) pteridophytes
(c) fern
(d) Funaria.
Question 29. Moss peristome takes part in
(a) spore dispersal
(b) photosynthesis
(c) protection
(d) absorption
Question 30. Algae are useful because they
(a) purify the atmosphere
(b) are large in number
(c) are used in fermentation
(d) are used to study respiration
Question 31. Which of the following plant kingdom is called 'amphibians'?
(a) Pteridophyta
(b) Thallophyta
(c) Tracheophyta
(d) Bryophyta
Question 32. The plant body is thalloid in
(a) Sphagnum
(b) Salvinia
(c) Marchantia
(d) Funaria.
Question 33. In Ulothrix, meiosis takes place in
(a) cells of the filament
(b) holdfast
(c) zygote
(d) zoospores
Question 34. Plants of which one of the following groups of genera are pollinated by the same agency?
(a) Triticum, Cocos, Mangifera
(b) Ficus, Kigelia, Casuarina
(c) Salvia, Morus, Euphorbia
(d) Bombax, Butea, Bauhinia
Question 35. The plant group that produces spores and embryo but lacks vascular tissues and seeds is
(a) Pteridophyta
(b) Rhodophyta
(c) Bryophyta
(d) Phaeophyta
Question 36. Which of the following statements is correct?
(a) Ovules are not enclosed by ovary wall in gymnosperms.
(b) Selaginella is heterosporous, while Salvinia is homosporous.
(c) Horsetails are gymnosperms.
(d) Stems are usually unbranched in both Cycas and Cedrus.
Question 37. Which among the following is a rootless plant?
(a) Nymphaea
(b) Sagittaria
(c) Ceratophyllum
(d) Vallisneria
Question 38. Select the correct statement.
(a) Sequoia is one of the tallest trees.
(b) The leaves of gymnosperms are not well adapted to extremes of climate.
(c) Gymnosperms are both homosporous and heterosporous.
(d) Salvinia, Ginkgo and Pinus all are gymnosperms.
Question 39. In which one of the following male and female gametophytes do not have free living independent existence?
(a) Polytrichum
(b) Cedrus
(c) Pteris
(d) Funaria
Question 40. In Pinus, the third tier of embryonal cells from below is known as
(a) rosette tier
(b) suspensor tier
(c) embryonal tier
(d) free-nuclear tier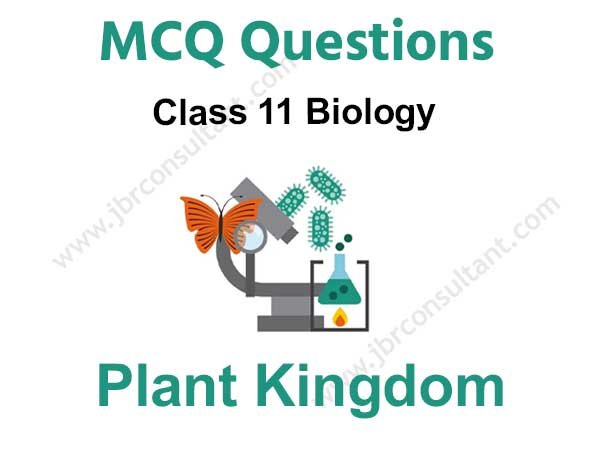 You can easily get good marks If you study with the help of Class 11 Plant Kingdom MCQ. We trust that information provided is useful for you. NCERT Plant Kingdom Class 11 MCQ PDF Free Download would without a doubt create positive results.
We hope the information shared above in regards to MCQ on Plant Kingdom Class 11 with Answers has been helpful to you. if you have any questions regarding CBSE Class 11 BIology Solutions MCQs Pdf, write a comment below and we will get back to you as soon as possible.
Frequently Asked Question (FAQs)
How many MCQ questions are there in Class 11 chapter 3 BIology?

In Class 11 chapter 3 BIology, we have provided 40 Important MCQ Questions, But in the future, we will add more MCQs so that you can get good marks in the Class 11 exam.
Can we score good marks in Class 11 BIology with the help of Plant Kingdom MCQ Questions?

Yes, MCQ Question is one of the best strategies to make your preparation better for the CBSE Board Exam. It also helps to know the student's basic understanding of each chapter. So, You can score good marks in the Class 11 BIology exam.