Environmental Issues Class 12 MCQ is one of the best strategies to prepare for the CBSE Class 12 Board exam. If you want to complete a grasp concept or work on one's score, there is no method except constant practice. Students can improve their speed and accuracy by doing more MCQ on Environmental Issues class 12, which will help them all through their board test.
Environmental Issues Class 12 MCQ Questions with Answers
Class 12 Biology MCQ with answers are given here to chapter 15 Environmental Issues. These MCQs are based on the latest CBSE board syllabus and relate to the latest Class 12 Biology syllabus. By Solving these Class 12 MCQ, you will be able to analyze all of the concepts quickly in the chapter and get ready for the Class 12 Annual exam.
Learn Environmental Issues Class 12 MCQs with answers pdf free download according to the latest CBSE and NCERT syllabus. Students should prepare for the examination by solving CBSE Class 12 Environmental Issues MCQ with answers given below.
Question 1. Montreal Protocol aims at
(a) biodiversity conservation
(b) control of water pollution
(c) control of CO2 emission
(d) reduction of ozone depleting substances
Question 2. A renewable exhaustible natural resource is
(a) coal
(b) petroleum
(c) minerals
(d) forest.
Question 3. Phosphate pollution is caused by
(a) sewage and phosphate rock
(b) sewage and agricultural fertilizers
(c) phosphate rock only
(d) agricultural fertilizers only.
Question 4. Climate of the world is threatened by
(a) decreasing amount of atmospheric oxygen
(b) increasing amount of atmospheric carbon dioxide
(c) decreasing amount of atmospheric carbon dioxide
(d) increasing concentration of atmospheric oxygen.
Question 5. Measuring Biochemical Oxygen Demand (BOD) is a method used for
(a) estimating the amount of organic matter in sewage water
(b) working out the efficiency of oil driven automobile engines
(c) measuring the activity of Saccharomyces
cerevisiae in producing curd on a commercial scale
(d) working out the efficiency of RBCs about their capacity to carry oxygen.
Question 6. Major aerosol pollutant in jet plane emission is
(a) sulphur dioxide
(b) carbon monoxide
(c) methane
(d) fluorocarbon
Question 7. Depletion of which gas in the atmosphere can lead to an increased incidence of skin cancers?
(a) Ammonia
(b) Methane
(c) Nitrous oxide
(d) Ozone
Question 8. Which of the following pairs of gases is mainly responsible for greenhouse effect?
(a) Carbon dioxide and methane
(b) Ozone and ammonia
(c) Oxygen and nitrogen
(d) Nitrogen and sulphur dioxide
Question 9. Which of the following are most suitable indicators of SO2 pollution in the environment?
(a) Algae
(b) Fungi
(c) Lichens
(d) Conifers
Question 10. Minerals and metals are
(a) biodegradable resources
(b) renewable
(c) non-renewable
(d) renewable and non-renewable resources.
Question 11. Most hazardous metal pollutant of automobile exhausts is
(a) mercury
(b) cadmium
(c) lead
(d) copper.
Question 12. Which of the following organism is likely to have more concentration of D.D.T. in its body?
(a) Top carnivores
(b) Primary producers
(c) Herbivores
(d) Carnivores
Question 13. Which among the following is likely to have the highest levels of D.D.T. depositions in its body?
(a) Sea gull
(b) Phytoplankton
(c) Eel
(d) Crab
Question 14. Formation of ozone hole is maximum over
(a) Europe
(b) Africa
(c) India
(d) Antarctica.
Question 15. Deforestation causes
(a) soil erosion
(b) soil pollution
(c) noise pollution
(d) air pollution
Question 16. Which of the following is biodegradable pollutant?
(a) Plastic
(b) Asbestos
(c) Sewage
(d) Polythene
Question 17. The highest DDT concentration in aquatic food chain shall occur in
(a) phytoplankton
(b) seagull
(c) crab
(d) eel.
Question 18. The Air Prevention and Control of Pollution Act came into force in
(a) 1985
(b) 1990
(c) 1975
(d) 1981
Question 19. According to Central Pollution Control Board (CPCB), which particulate size in diameter (in micrometers) of the air pollutants is responsible for greatest harm to human health?
(a) 1.0 or less
(b) 5.2 – 2.5
(c) 2.5 or less
(d) 1.5 or less
Question 20. Which of the following is not one of the prime health risks associated with greater UV radiations through the atmosphere due to depletion of stratospheric ozone?
(a) Damage to eyes
(b) Increased liver cancer
(c) Increased skin cancer
(d) Reduced immune system
Whoever needs to take the CBSE Class 12 Board Exam should look at this MCQ. To the Students who will show up in CBSE Class 12 Biology Board Exams, It is suggested to practice more and more questions. Aside from the sample paper you more likely had solved. These Environmental Issues Class 12 MCQ are ready by the subject specialists themselves.
Question 21. Soil conservation is
(a) conversion of sterile soil into fertile one
(b) aeration of soil
(c) erosion of soil
(d) protection against loss.
Question 22. DDT residues are rapidly passed through food chain causing biomagnification because DDT is
(a) moderately toxic
(b) non-toxic to aquatic animals
(c) water soluble
(d) lipo soluble.
Question 23. Lead concentration in blood is considered alarming if it is
(a) 20 mg / 100 mL
(b) 30 mg / 100 mL
(c) 4 – 6 mg / 100 mL
(d) 10 mg / 100 mL.
Question 24. Drinking of mineral water with very low level of pesticides (about 0.02 ppm) for long periods may
(a) produce immunity against mosquito
(b) cause leukemia (blood cancer) in most people
(c) cause cancer of the intestine
(d) lead to accumulation of pesticide residues in body fat
Question 25. Which of the following methods is the most suitable for disposal of nuclear waste?
(a) Bury the waste within rocks deep below earth's surface
(b) Shoot the waste into space
(c) Bury the waste under Antarctic ice-cover
(d) Dump the waste within rocks under ocean
Question 26. "Good ozone" is found in the
(a) mesosphere
(b) troposphere
(c) stratosphere
(d) ionosphere.
Question 27. Fluoride pollution mainly affects
(a) brain
(b) heart
(c) teeth
(d) kidney.
Question 28. Which one of the following statements is correct?
(a) Both Azotobacter and Rhizobium fix atmospheric nitrogen in root nodules of plants.
(b) Cyanobacteria such as Anabaena and Nostoc are important mobilizers of phosphates and for plant nutrition in soil.
(c) At present it is not possible to grow maize without chemical fertilizers.
(d) Extensive use of chemical fertilizers may lead to eutrophication of nearby water bodies
Question 29. High value of BOD (Biochemical Oxygen Demand) indicates that
(a) water is less polluted
(b) consumption of organic matter in the water is higher by the microbes
(c) water is pure
(d) water is highly polluted.
Question 30. The two gases making highest relative contribution to the greenhouse gases are
(a) CO2 and CH4
(b) CH4 and N2O
(c) CFCs and N2O
(d) CO2 and N2O.
Question 31. Joint Forest Management Concept was introduced in India during
(a) 1980s
(b) 1990s
(c) 1960s
(d) 1970s.
Question 32. The supersonic jets cause pollution by the thinning of
(a) O2 layer
(b) O3 layer
(c) CO2 layer
(d) SO2 layer.
Question 33. The two great industrial tragedies namely, MIC and Chernobyl tragedies respectively occurred where and at which time?
(a) Bhopal 1984, Ukraine 1986
(b) Bhopal 1986, Russia 1988
(c) Bhopal 1984, Ukraine 1990
(d) Bhopal 1984, Ukraine 1988
Question 34. Greenhouse effect is warming due to
(a) infra-red rays reaching earth
(b) moisture layer in atmosphere
(c) increase in temperature due to increase in
carbon dioxide concentration of atmosphere
(d) ozone layer of atmosphere
Question 35. Maximum greenhouse gas released by which of the following country?
(a) India
(b) France
(c) USA
(d) Britain
Question 36. Which of the following is absent in polluted water?
(a) Hydrilla
(b) Water hyacinth
(c) Larva of stone fly
(d) Blue green algae
Question 37. Which of the following statements about ozone is correct?
(a) Tropospheric ozone protects us from UV radiations.
(b) Stratospheric ozone is 'bad'.
(c) Tropospheric ozone is 'good'.
(d) Stratospheric ozone protects us from UV radiations.
Question 38. If we uncover half of the forest covering the earth, what crisis will be produced at most and at first?
(a) Some species will be extinct.
(b) Population and ecological imbalance will rise up.
(c) Energy crisis will occur.
(d) Rest half forests will maintain this imbalance
Question 39. The Taj Mahal is threatened due to the effect of
(a) oxygen
(b) hydrogen
(c) chlorine
(d) sulphur dioxide.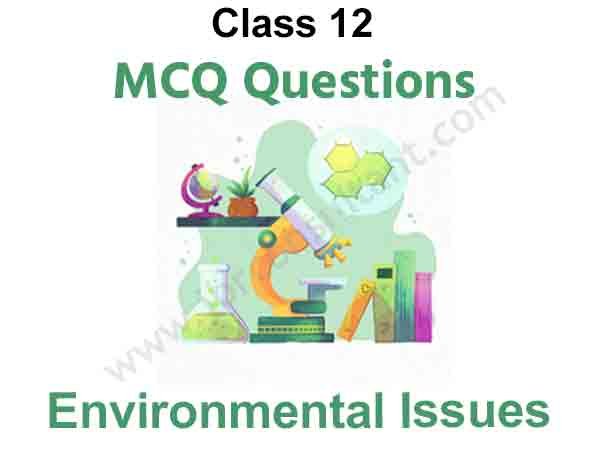 You can easily get good marks If you study with the help of Environmental Issues Class 12 MCQ. We trust that information provided is useful for you. NCERT MCQ Questions for Class 12 Environmental Issues PDF Free Download would without a doubt create positive results.
We hope the information shared above in regards to MCQ on Environmental Issues Class 12 with Answers has been helpful to you. if you have any questions regarding CBSE Class 12 Environmental Issues MCQs Pdf, write a comment below and we will get back to you as soon as possible.
Frequently Asked Question (FAQs)
How many MCQ questions are there in CLass 12 chapter 16 Biology?

In Class 12 chapter 16 Biology, we have provided 39 Important MCQ Questions, But in the future, we will add more MCQs so that you can get good marks in the Class 12 exam.
Can we score good marks in Class 12 Biology with the help of Environmental Issues MCQ Questions?

Yes, MCQ Question is one of the best strategies to make your preparation better for the CBSE Board Exam. It also helps to know the student's basic understanding of each chapter. So, You can easily score good marks in the Class 12 BIology exam.