Locomotion and Movement Class 11 MCQ is one of the best strategies to prepare for the CBSE Class 11 Board exam. If you want to complete a grasp concept or work on one's score, there is no method except constant practice. Students can improve their speed and accuracy by doing more MCQ on Plant Kingdom Class 11, which will help them all through their board test.
Locomotion and Movement Class 11 MCQ Questions with Answer
Class 11 Biology MCQ with answers are given here to Chapter 20 Locomotion and Movement. These MCQs are based on the latest CBSE board syllabus and relate to the latest Class 11 BIology syllabus. By Solving these Class 11 MCQs, you will be able to analyze all of the concepts quickly in the chapter and get ready for the Class 11 Annual exam.
Learn Class 11 Locomotion and Movement MCQs with answers pdf free download according to the latest CBSE and NCERT syllabus. Students should prepare for the examination by solving CBSE Class 11 Biology Locomotion and Movement MCQ with answers given below
Question 1. Cardiac muscles are different from that of skeletal muscles as the former are
(a) striated but involuntary.
(b) non striated and involuntary.
(c) smooth or unstriated.
(d) voluntary in action.
Question 2. The macrophages in human body exhibit
(a) ciliary movement
(b) amoeboid movement
(c) no movement
(d) movement with the blood flow only
Question 3. Smooth muscle is
(a) found in walls of heart only.
(b) found in the walls of all the hollow organs except heart.
(c) attached to the bones only.
(d) found only in the walls of alimentary canal.
Question 4. Anisotropic band is
(a) thick and dark
(b) thin and dark
(c) thick and light
(d) thin and light
Question 5. A-band of the myofibril contains
(a) only thick filaments
(b) only thin filaments
(c) both thick and thin filaments
(d) no filaments
Question 6. Troponin
(a) produces sliding movement of microtubules
(b) contains globular head
(c) binding to Ca+2 produces skeletal muscle contraction.
(d) covers the active site of actin.
Question 7. Striated muscle fibres are found in
(a) urinary bladder
(b) lungs
(c) gall bladder
(d) leg muscles
Question 8. Striations in the striated muscles are due to
(a) absence of myofilaments.
(b) presence of myofilaments.
(c) specialized arrangement of myofilaments.
(d) projections of myosin.
Question 9. During muscle contraction in humans the
(a) actin filaments shorten.
(b) sarcomere does not shorten.
(c) A-band remain same.
(d) A, H and I bands shorten.
Question 10. A sarcomere is best described as a
(a) movable structural unit within a myofibril bounded by H zones.
(b) fixed structural unit within a myofibril bounded by Z lines.
(c) fixed structural unit within a myofibril bounded by A bands.
(d) movable structural unit within a myofibril bounded by Z lines.
Question 11. Which set clearly identify striated muscles?
(a) Cylindrical, Syncytial and Unbranched
(b) Spindle, Unbranched and Uninucleated
(c) Cylindrical, Striped and Nucleated
(d) Cylindrical, Striped and Branched
Question 12. Actin protein occurs in which of the following two forms ?
(a) Polymeric F- actin and monomeric G- actin
(b) Monomeric F- actin and polymeric G-actin
(c) The tail and a head
(d) F-actin and G- actin, but both globular.
Question 13. During fatigue
(a) muscles cannot relax.
(b) muscles fail to be stimulated.
(c) blood supply to muscles stops.
(d) nerve supply to muscles become inactive.
Question 14. Which of the following is the store house of calcium in muscles?
(a) Sarcosome
(b) Sarcoplasmic reticulum
(c) Creatine phosphate
(d) Sarcomere
Question 15. Red muscle fibres are rich in
(a) golgi bodies
(b) mitochondria
(c) lysosomes
(d) ribosomes
Question 16. During resting stage the binding site of actin for myosin remains masked by
(a) troponin
(b) G-actin
(c) tropomyosin
(d) meromyosin
Question 17. In mammals the lower jaw is made of
(a) maxilla
(b) dentary
(c) mandible
(d) ethmoid
Question 18. The axon terminals of a nerve cell and the sarcolemma of a skeletal muscle cell join at the_______
(a) motor unit
(b) synaptic cleft
(c) action potential
(d) neuromuscular junction
Question 19. Which muscle protein acts as ATPase?
(a) Actin
(b) Troponin
(c) Myosin
(d) Tropomyosin
Question 20. Function of long bones in adult mammals is to provide
(a) support only.
(b) support and produce RBCs only.
(c) support and produce WBCs only.
(d) support and produce RBCs and WBCs.
Question 21. Hyoid bone is located
(a) at the top of the buccal cavity.
(b) at the floor of the buccal cavity.
(c) in front of the skull.
(d) behind the skull.
Question 22. The vertebral formula of human adult is
(a) C7T12L5S5Cd1
(b) C7T12L5S5Cd5
(c) C7T12L5S5Cd4
(d) C7T12L5S4Cd4
Whoever needs to take the CBSE Class 11 Board Exam should look at this MCQ. To the Students who will show up in CBSE Class 11 Biology Board Exams, It is suggested to practice more and more questions. Aside from the sample paper you more likely had solved. These Locomotion and Movement Class 11 MCQ are ready by the subject specialists themselves.
Question 23. Which of the following is a single U shaped bone, present at the base of the buccal cavity and it is also included in the skull?
(a) Hyoid
(b) Malleus
(c) Sacrum
(d) Scapula
Question 24. Which of the following is not part of axial skeleton?
(a) Sacrum
(b) Sternum
(c) Mandible
(d) Humerus
Question 25. Number of floating ribs in human body is
(a) two pairs
(b) three pairs
(c) five pairs
(d) six pairs
Question 26. Part of the body having a single pair of bones is called
(a) pelvic girdle
(b) external ear
(c) wrist
(d) lower jaw
Question 27. A cup shaped cavity for articulation of femur head is
(a) acetabulum
(b) glenoid cavity
(c) sigmoid notch
(d) obturator foramen
Question 28. Which of the following vertebrae are fused?
(a) Cervical
(b) Sacral
(c) Lumber
(d) Thoracic
Question 29. Glenoid cavity is found in
(a) pelvic girdle
(b) skull
(c) pectoral girdle
(d) sternum
Question 30. The joint in our neck which allows us to rotate our head left to right is
(a) pivot joint
(b) hinge joint
(c) saddle joint
(d) ellipsoid joint
Question 31. An example of gliding joint is
(a) humerus and glenoid cavity
(b) femur and tibio-fibula
(c) occipital condyle and odontoid process
(d) zygapophyses of adjacent vertebrae
Question 32. Identify the joint between sternum and the ribs in humans.
(a) Fibrous joint
(b) Gliding joint
(c) Cartilaginous joint
(d) Angular joint
Question 33. Elbow joint is an example of
(a) hinge joint
(b) gliding joint
(c) ball and socket joint
(d) pivot joint
Question 34. Accumulation of uric acid crystals in the synovial joint causes
(a) rheumatoidal arthritis
(b) gout
(c) osteoarthritis
(d) muscular dystrophy
Question 35. Which of the following is an autoimmune disorder ?
(a) Myasthenia gravis
(b) Osteoporosis
(c) Muscular dystrophy
(d) Gout
Question 36. Which of the following statement is correct?
(a) All striated muscles are voluntary.
(b) Visceral muscles are faintly striated.
(c) Cardiac muscles are not striated.
(d) All non-striated muscles are involuntary.
Question 37. Read the following statements (A to D) and select the one option that contains both correct statements.
A. Z-line is present in the centre of the light band.
B. Thin filaments are firmly attached to the M-line.
C. The central part of thick filaments, not overlapped by thin filaments is called Z-band.
D. Light band contains only thin filaments.
(a) A and D
(b) B and C
(c) A and C
(d) B and D
Question 38. In humans, coccyx is formed by the fusion of
(a) 3 vertebra
(b) 4 vertebra
(c) 5 vertebra
(d) 6 vertebra
Question 39. Which of the following statement is incorrect ?
(a) All movements lead to locomotion.
(b) Ciliary movement help in passage of ova through female reproductive tract.
(c) Microfilaments are involved in amoeboid movement.
(d) In Paramecium, the cilia help in movement of food through cytopharynx and in locomotion as well.
Question 40. Which of the following is not the feature of red muscle fibres?
(a) They have plenty of mitochondria.
(b) They have high content of myoglobin.
(c) They have high amount of sarcoplasmic reticulum.
(d) They are called aerobic muscles.
Question 41. What is not true about human skull?
(a) It is dicondylic.
(b) It includes 6 ear ossicles.
(c) It includes 14 facial bones.
(d) Hyoid is not included in skull bones.
Question 42. Which one of the following is the correct description of certain part of a normal human skeleton?
(a) Parietal bone and the temporal bone of the skull are joined by fibrous joint.
(b) First vertebra is axis which articulates with the occipital condyles.
(c) The 9th and 10th pairs of ribs are called the floating ribs.
(d) Glenoid cavity is a depression to which the thigh bone articulates.
Question 43. Which of the following statements is/are correct?
(i) During muscle contraction, isotropic band gets elongated.
(ii). Acetylcholine is released when the neural signal reaches the motor end plate.
(iii) Muscle contraction is initiated by the signal sent by CNS via a sensory neuron.
(iv) Repeated activation of muscle can lead to lactic acid accumulation.
(a) (i) and (iii)
(b) (ii) and (iv)
(c) (i), (ii) and (iii)
(d) (ii), (iii) and (iv)
Question 44. During muscle contraction.
(a) chemical energy is changed to electrical energy.
(b) mechanical energy is changed to chemical energy.
(c) chemical energy is changed to physical energy.
(d) chemical energy is changed to mechanical energy.
Question 45. Contractile tissues have the following features.
(i) They are mesodermal in origin.
(ii) They contain stretch receptors.
(iii) Rhythmic contractions are seen in them.
(iv) They do not fatigue during the life of the animal. Which of the above are characteristics of sphincters?
(a) Only (i), (iii) and (iv)
(b) Only (i), (ii) and (iii)
(c) Only (i), (ii) and (iv)
(d) All of these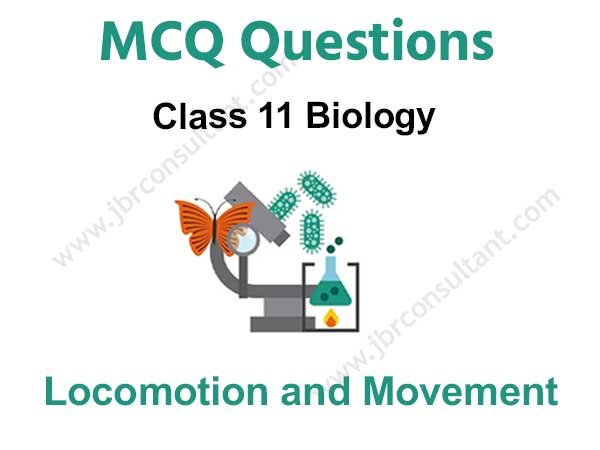 You can easily get good marks If you study with the help of Class 11 Locomotion and Movement MCQ. We trust that information provided is useful for you. NCERT Locomotion and Movement Class 11 MCQ PDF Free Download would without a doubt create positive results.
We hope the information shared above in regards to MCQ on Locomotion and Movement Class 11 with Answers has been helpful to you. if you have any questions regarding CBSE Class 11 BIology Solutions MCQs Pdf, write a comment below and we will get back to you as soon as possible.
Frequently Asked Question (FAQs)
How many MCQ questions are there in Class 11 chapter 20 BIology?

In Class 11 chapter 20 BIology, we have provided 45 Important MCQ Questions, But in the future, we will add more MCQs so that you can get good marks in the Class 11 exam.
Can we score good marks in Class 11 BIology with the help of Locomotion and Movement MCQ Questions?

Yes, MCQ Question is one of the best strategies to make your preparation better for the CBSE Board Exam. It also helps to know the student's basic understanding of each chapter. So, You can score good marks in the Class 11 BIology exam.