Molecular Basis of Inheritance MCQs For Class 12 Biology is one of the best strategies to prepare for the CBSE Class 12 Board exam. If you want to complete a grasp concept or work on one's score, there is no method except constant practice. Students can improve their speed and accuracy by doing more Molecular Basis of Inheritance Class 12 MCQ, which will help them all through their board test.
Molecular Basis of Inheritance MCQs for Class 12 Biology with Answers
Class 12 Biology MCQ with answers are given here to chapter the Molecular Basis of Inheritance. These MCQs are based on the latest CBSE board syllabus and relate to the latest Class 12 Biology syllabus. By Solving these Class 12 Molecular Basis of Inheritance MCQs, you will be able to analyze all of the concepts quickly in the chapter and get ready for the Class 12 Annual exam.
Learn Molecular Basis of Inheritance Class 12 Biology Chapter 6 MCQ with answers pdf free download according to the latest CBSE and NCERT syllabus. Students should prepare for the examination by solving MCQ on Molecular Basis of Inheritance Class 12 with answers given below.
Question 1. Purines found both in DNA and RNA are
(a) cytosine and thymine
(b) adenine and thymine
(c) adenine and guanine
(d) guanine and cytosine.
Question 2. Which one of the following pairs of codons is correctly matched with their function or the signal for the particular amino acid?
(a) AUG, ACG – Start/methionine
(b) UUA, UCA – Leucine
(c) GUU, GCU – Alanine
(d) UAG, UGA – Stop
Question 3. What are the structures called that give an appearance as 'beads-on-string' in the chromosomes when viewed under electron microscope?
(a) Genes
(b) Nucleotides
(c) Nucleosomes
(d) Base pairs
Question 4. Which of the following is initiation codon?
(a) UAG
(b) AUC
(c) AUG
(d) CCU
Question 5. The following ratio is generally constant for a given species:
(a) A + G / C + T
(b) T + C / G + A
(c) G + C / A + T
(d) A + C / T + G.
Question 6. Which one of the following statements about the particular entity is true ?
(a) Centromere is found in animal cells, which produces aster during cell division.
(b) The gene for producing insulin is present in every body cell.
(c) Nucleosome is formed of nucleotides.
(d) DNA consists of core of eight histones
Question 7. One turn of the helix in a B-form DNA is approximately
(a) 2 nm
(b) 20 nm
(c) 0.34 nm
(d) 3.4 nm.
Question 8. In prokaryotes, the genetic material is
(a) linear DNA without histones
(b) circular DNA without histones
(c) linear DNA with histones
(d) circular DNA with histones.
Question 9. The experimental proof for semi-conservative replication of DNA was first shown in a
(a) fungus
(b) bacterium
(c) plant
(d) virus.
Question 10. A DNA with unequal nitrogen bases would most probably be
(a) single stranded
(b) double stranded
(c) triple stranded
(d) four stranded.
Question 11. DNA synthesis can be specifically measured by estimating the incorporation of radio-labelled
(a) thymidine
(b) deoxyribose sugar
(c) uracil
(d) adenine.
Question 12. The final proof for DNA as the genetic material came from the experiments of
(a) Hershey and Chase
(b) Avery, MacLeod and McCarty
(c) Hargobind Khorana
(d) Griffith.
Question 13. There are special proteins that help to open up DNA double helix in front of the replication fork. These proteins are
(a) DNA ligase
(b) DNA topoisomerase I
(c) DNA gyrase
(d) DNA polymerase I.
Question 14. If a DNA contains 1000 base pairs, what would be its length?
a) 3400 Å
b) 34000 Å
c) 6800
d) 1000 Å
Question 15. The stretch of codons between AUG and a stop codon is called
a) open reading frame
b) TATA box
c) colinearity
d) degenerate
Question 16. The removal of which enzyme affects the synthesis of hnRNA in eukaryotes
a) RNA polymerase II
b) RNA primase
c) RNA polymerase III
d) RNA polymerase I
Question 17. Genes which are active all the time synthesizing substances needed by the cell are called
a) Cellular luxury genes
b) metabolic genes
c) house keeping genes
d) control genes
Question 18. In the following questions, a statement of Assertion (A) is followed by a statement of Reason (R).
(1) If both Assertion and Reason are true and the reason is the correct explanation of the assertion, then mark (a)
(2) If both Assertion and Reason are true but the reason is not the correct explanation of the assertion, then mark (b)
(3) If Assertion is true but Reason are false, then mark (c)
(4) If both Assertion and Reason are false, then mark (d)
Assertion: In Griffith's experiment mice were injected by a mixture of heat killed Smooth type bacteria and live Rough type bacteria. Some mice died of pneumonia and their blood contained both live Rough type bacteria and live Smooth type bacteria
Reason: The dead Smooth type bacteria became alive and caused pneumonia. Griffith named it as transforming principle.
Question 19. If a double stranded DNA has 20% Thymine, the percentage of Guanine in the DNA
a) 30%
b) 10%
c) 90%
d) 40%
Question 20. Cistron is
a) The coding sequence of DNA
b) The functional unit of DNA molecule that codes for a particular gene product
c) Intervening non coding sequence of DNA
d) The sequences which are removed during RNA splicing.
Question 21. Read the statements given below and identify the incorrect statement.
a) The human genome contains 3164.7 million nucleotide bases.
b) The average gene consists of 30,000 bp
c) The total number of genes is estimated at 30,000.
d) Chromosome Y has 231 genes
e) Less than 2% of the genome codes for proteins.
Question 22. A bacterial colony containing DNA made up of 100% N15 nitrogen bases is allowed to replicate in a medium containing N14 bases. After one round of replication the result would be
a) All individuals will be identical to parents
b) All individuals will be hybrids
c) Only 50% individuals would be hybrids
d) All individuals would have DNA made up of 100% N14
Question 23. Sickle cell anemia is caused
a) When valine is replaced by glutamic acid in beta polypeptide chain
b) When glutamic acid is replaced by valine in beta polypeptide chain
c) When glutamic acid is replaced by valine in alpha polypeptide chain
d) When valine is replaced by glutamic acid in alpha polypeptide chain
Question 24. Teminism is
a) a central dogma reverse
b) a central dogma of molecular biology
c) a circular flow of hereditary material
d) an effect of cytoplasm on functioning of DNA
Question 25. In a nucleotide, the nitrogen base is joined to the sugar molecule by
a) Phosphodiester bond
b) Glycosidic bond
c) Hydrogen bond
d) (a) &(b)
Question 26. Which mRNA will be translated to a polypeptide chain containing 8 amino acids?
a) AUGUUAAUAGACGAGUAGCGACGAUGU
b) AUGAGACGGACUGCAUUCCCAACCUGA
c) AUGCCCAACCGUUAUUCAUGCUAG
d) AUGUCGACAGUCUAAAACAGCGGG
Whoever needs to take the CBSE Class 12 Board Exam should look at this MCQ. To the Students who will show up in CBSE Class 12 Biology Board Exams, It is suggested to practice more and more questions. Aside from the sample paper you more likely had solved. TheseMmolecular Basis of Inheritance MCQs are ready by the subject specialists themselves.
Question 27. Peptidyl transferase
a) Is a 23s rRNA
b) forms peptide bonds
c) component of ribosome
d) all the three
Question 28. Experimental material in the study of DNA replication has been
(a) Escherichia coli
(b) Neurospora crassa
(c) Pneumococcus
(d) Drosophila melanogaster.
Question 29. Select the correct statement.
(a) Franklin Stahl coined the term ''linkage''.
(b) Punnett square was developed by a British scientist.
(c) Spliceosomes take part in translation.
(d) Transduction was discovered by S. Altman.
Question 30. 'Lac operon' in E. coli, is induced by
(a) 'I' gene
(b) promoter gene
(c) β-galactosidase
(d) lactose.
Question 31. Ribosomal RNA is actively synthesised in
(a) lysosomes
(b) nucleolus
(c) nucleoplasm
(d) ribosomes.
Question 32. The equivalent of a structural gene is
(a) muton
(b) cistron
(c) operon
(d) recon.
Question 33. Telomerase is an enzyme which is a
(a) simple protein
(b) RNA
(c) ribonucleoprotein
(d) repetitive DNA.
Question 34. In DNA helix, cytosine is paired with guanine by
(a) covalent bond
(b) phosphate bond
(c) three hydrogen bonds
(d) two hydrogen bonds
Question 35. In DNA, when AGCT occurs, their association is as per which of the following pair?
(a) AT-GC
(b) AG-CT
(c) AC-GT
(d) All of these
Question 36. Which of the following reunites the exon segments after RNA splicing?
(a) RNA polymerase
(b) RNA primase
(c) RNA ligase
(d) RNA proteoses
Question 37. The process of transfer of genetic information from DNA to RNA/formation of RNA from DNA is
(a) transversion
(b) transcription
(c) translation
(d) translocation.
Question 38. Which of the following features of genetic code does allow bacteria to produce human insulin by recombinant DNA technology?
(a) Genetic code is specific.
(b) Genetic code is not ambiguous.
(c) Genetic code is redundant.
(d) Genetic code is nearly universal.
Question 39. In three dimensional view the molecule of tRNA is
(a) L-shaped
(b) S-shaped
(c) Y-shaped
(d) E-shaped.
Question 40. In an inducible operon, the genes are
(a) usually not expressed unless a signal turns them"on".
(b) usually expressed unless a signal turns them "off".
(c) never expressed
(d) always expresser.
Question 41. The total number of nitrogenous bases in human genome is estimated to be about
(a) 3.5 million
(b) 35 thousand
(c) 35 million
(d) 3.1 billion
Question 42. Which one of the following triplet codes, is correctly matched with its specificity for an amino acid in protein synthesis or as 'start' or 'stop' codon ? D
(a) UCG – Start
(b) UUU – Stop
(c) UGU – Leucine
(d) UAC – Tyrosine
Question 43. Which one of the following is the starter codon?
(a) UAA
(b) UAG
(c) AUG
(d) UGA
Question 44. Genetic code consists of
(a) adenine and guanine
(b) cytosine and uracil
(c) cytosine and guanine
(d) all of these.
Question 45. If the DNA codons are ATG ATG ATG and a cytosine base is inserted at the beginning, then which of the following will result?
(a) CAT GAT GAT G
(b) A non-sense mutation
(c) C ATG ATG ATG
(d) CA TGA TGA TG
Question 46. Using imprints from a plate with complete medium and carrying bacterial colonies, you can select streptomycin resistant mutants and prove that such mutations do not originate as adaptation. These imprints need to be used
(a) on plates with and without streptomycin
(b) on plates with minimal medium
(c) only on plates with streptomycin
(d) only on plates without streptomycin.
Question 47. A complex of ribosomes attached to a single strand of RNA is known as
(a) polypeptide
(b) Okazaki fragment
(c) polysome
(d) polymer
Question 48. All of the following are part of an operon except
(a) an operator
(b) structural genes
(c) an enhancer
(d) a promoter.
Question 49. Protein synthesis in an animal cell, takes place
(a) in the cytoplasm as well as endoplasmic reticulum
(b) only on ribose attached to nucleon
(c) only in the cytoplasm
(d) in the nucleolus as well as in the cytoplasm.
Question 50. In operon concept, regulator gene functions as
(a) inhibitor
(b) repressor
(c) regulator
(d) all of these.
Question 51. In E. coli, during lactose metabolism repressor binds to
(a) regulator gene
(b) operator gene
(c) structural gene
(d) promoter gene.
Question 52. DNA-dependent RNA polymerase catalyses transcription on one strand of the DNA which is called the
(a) template strand
(b) coding strand
(c) alpha strand
(d) antistrand.
Question 53. What is it that forms the basis of DNA finger-printing?
(a) The relative proportions of purines and pyrimidine in DNA.
(b) The relative difference in the DNA occurrence in blood, skin and saliva.
(c) The relative amount of DNA in the ridges and grooves of the fingerprints.
(d) Satellite DNA occurring as highly repeated short DNA segments.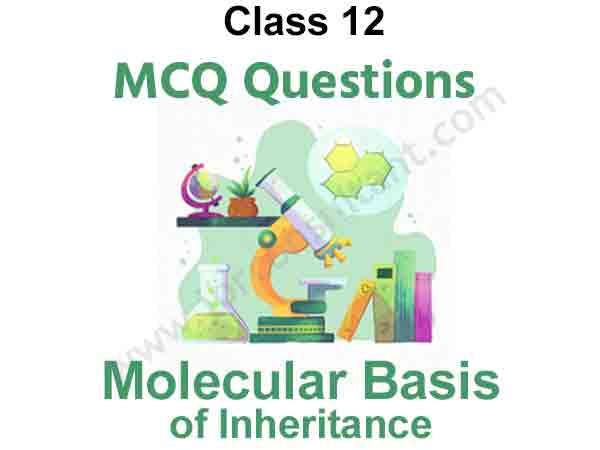 You can easily get good marks If you study with the help of Class 12 Molecular Basis of Inheritance MCQs. We trust that information provided is useful for you. NCERT Molecular Basis of Inheritance MCQs for Class 12 Biology PDF Free Download would without a doubt create positive results.
We hope the information shared above in regards to MCQ on Molecular Basis of Inheritance Class 12 with Answers has been helpful to you. if you have any questions regarding CBSE Class 12 Molecular Basis of Inheritance MCQs Pdf, write a comment below and we will get back to you as soon as possible.
Frequently Asked Question (FAQs) – MCQ on Molecular Basis of Inheritance Class 12
How many MCQ questions are there in CLass 12 chapter 6 Biology?

In Class 12 chapter 6 Biology, we have provided 53 Important MCQ Questions, But in the future, we will add more MCQs so that you can get good marks in the Class 12 exam.
Can we score good marks in Molecular Basis of inheritance for Class 12 Biology with the help of MCQ Questions?

Yes, MCQ Question is one of the best strategies to make your preparation better for the CBSE Board Exam. It also helps to know the student's basic understanding of each chapter. So, You can easily score good marks in the Class 12 BIology exam.