Biomolecules Class 11 MCQ is one of the best strategies to prepare for the CBSE Class 11 Board exam. If you want to complete a grasp concept or work on one's score, there is no method except constant practice. Students can improve their speed and accuracy by doing more MCQ on Plant Kingdom Class 11, which will help them all through their board test.
Biomolecules Class 11 MCQ Questions with Answer
Class 11 Biology MCQ with answers are given here to chapter 9 Biomolecules. These MCQs are based on the latest CBSE board syllabus and relate to the latest Class 11 BIology syllabus. By Solving these Class 11 MCQs, you will be able to analyze all of the concepts quickly in the chapter and get ready for the Class 11 Annual exam.
Learn Class 11 Biomolecules MCQs with answers pdf free download according to the latest CBSE and NCERT syllabus. Students should prepare for the examination by solving CBSE Class 11 Biology Biomolecules MCQ with answers given below
Question 1. Which of the following is the simplest amino acid?
(a) Alanine
(b) Asparagine
(c) Glycine
(d) Tyrosine
Question 2. RNA does not possess
(a) uracil
(b) thymine
(c) adenine
(d) cytosine.
Question 3. About 98 percent of the mass of every living organism is composed of just six elements including carbon, hydrogen, nitrogen, oxygen and
(a) sulphur and magnesium
(b) magnesium and sodium
(c) calcium and phosphorus
(d) phosphorus and sulphur.
Question 4. The chitinous exoskeleton of arthropods is formed by the polymerisation of
(a) N – acetyl glucosamine
(b) lipoglycans
(c) keratin sulphate and chondroitin sulphate
(d) D – glucosamine.
Question 5. Identify the basic amino acid from the following.
(a) Tyrosine
(b) Glutamic Acid
(c) Lysine
(d) Valine
Question 6. The two functional groups characteristic of sugars are
(a) hydroxyl and methyl
(b) carbonyl and methyl
(c) carbonyl and phosphate
(d) carbonyl and hydroxyl.
Question 7. Spoilage of oil can be detected by which fatty acid?
(a) Oleic acid
(b) Linolenic acid
(c) Linoleic acid
(d) Erucic acid.
Question 8. The basic unit of nucleic acid is
(a) pentose sugar
(b) nucleoid
(c) nucleoside
(d) nucleotide.
Question 9. Which one of the following statements is wrong?
(a) Uracil is a pyrimidine.
(b) Glycine is a sulphur containing amino acid.
(c) Sucrose is a disaccharide.
(d) Cellulose is a polysaccharide.
Question 10. "Ramachandran plot" is used to confirm the structure of
(a) RNA
(b) proteins
(c) triacylglycerides
(d) DNA.
Question 11. Essential amino acid is
(a) phenylalanine
(b) glycine
(c) aspartic acid
(d) serine.
Question 12. Carbohydrates are commonly found as starch in plants storage organs. Which of the following five properties of starch (1-5) make it useful as a storage material?
(1) Easily translocated
(2) Chemically non-reactive
(3) Easily digested by animals
(4) Osmotically inactive
(5) Synthesized during photosynthesis
The useful properties are
(a) (1), (3) and (5) (b) (1) and (5)
(c) (2) and (3) (d) (2) and (4).
Question 13. The major role of minor elements inside living organisms is to act as
(a) co-factors of enzymes
(b) building blocks of important amino acids
(c) constituent of hormones
(d) binder of cell structure.
Question 14. A typical fat molecule is made up of
(a) one glycerol and one fatty acid molecule
(b) three glycerol and three fatty acid molecules
(c) three glycerol molecules and one fatty acid molecule
(d) one glycerol and three fatty acid molecules.
Question 15. Which one of the following is a non – reducing carbohydrate?
(a) Maltose
(b) Sucrose
(c) Lactose
(d) Ribose 5-phosphate
Question 16. Lipids are insoluble in water because lipid molecules are
(a) hydrophilic
(b) hydrophobic
(c) neutral
(d) zwitter ions.
Question 17. Concanavalin A is
(a) a pigment
(b) an alkaloid
(c) an essential oil
(d) a lectin.
Question 18. A phosphoglyceride is always made up of
(a) a saturated or unsaturated fatty acid esterified to a glycerol molecule to which a phosphate group is also attached
(b) a saturated or unsaturated fatty acid esterified to a phosphate group which is also attached to a glycerol molecule
(c) only a saturated fatty acid esterified to a glycerol molecule to which a phosphate group is also attached
(d) only an unsaturated fatty acid esterified to a glycerol molecule to which a phosphate group is also attached.
Whoever needs to take the CBSE Class 11 Board Exam should look at this MCQ. To the Students who will show up in CBSE Class 11 Biology Board Exams, It is suggested to practice more and more questions. Aside from the sample paper you more likely had solved. These Biomolecules Class 11 MCQ are ready by the subject specialists themselves.
Question 19. What are the most diverse molecules in the cell?
(a) Lipids
(b) Mineral salts
(c) Proteins
(d) Carbohydrates
Question 20. The four elements that make up 99% of all elements found in a living system are
(a) C, H, O and P
(b) C, N, O and P
(c) H, O, C and N
(d) C, H, O and S.
Question 21. Which one of the following is the most abundant
protein in the animals?
(a) Haemoglobin
(b) Collagen
(c) Lectin
(d) Insulin
Question 22. Macromolecule chitin is
(a) sulphur containing polysaccharide
(b) simple polysaccharide
(c) nitrogen containing polysaccharide
(d) phosphorus containing polysaccharide.
Question 23. Living cell contains 60 – 95% water. Water present
in human body is
(a) 60 – 65%
(b) 50 – 55%
(c) 75 – 80%
(d) 65 – 70%.
Question 24. Amino acids are mostly synthesised from
(a) mineral salts
(b) fatty acids
(c) volatile acids
(d) α-ketoglutaric acid.
Question 25. An organic substance bound to an enzyme and essential for its activity is called
(a) isoenzyme
(b) coenzyme
(c) holoenzyme
(d) apoenzyme.
Question 26. The catalytic efficiency of two different enzymes can be compared by the
(a) formation of the product
(b) pH of optimum value
(c) Km value
(d) molecular size of the enzyme.
Question 27. Secondary metabolites such as nicotine, strychnine and caffeine are produced by plants for their
(a) nutritive value
(b) growth response
(c) defence action
(d) effect on reproduction.
Question 28. Enzymes having slightly different molecular structure but performing identical activity are
(a) holoenzymes
(b) isoenzymes
(c) apoenzymes
(d) coenzymes.
Question 29. Role of an enzyme in reactions is to/as
(a) decrease activation energy
(b) increase activation energy
(c) inorganic catalyst
(d) none of the above.
Question 30. Which is a typical example of 'feedback inhibition'?
(a) Cyanide and cytochrome reaction
(b) Sulpha drugs and folic acid synthesizer bacteria
(c) Allosteric inhibition of hexokinase by glucose 6-phosphate
(d) Reaction between succinic dehydrogenase and succinic acid
Question 31. Which one is the most abundant protein in the animal world?
(a) Trypsin
(b) Haemoglobin
(c) Collagen
(d) Insulin
Question 32. Which one of the following biomolecules is correctly characterized?
(a) Lecithin-a phosphorylated glyceride found in cell membrane.
(b) Palmitic acid – an unsaturated fatty acid with 18 carbon atoms.
(c) Adenylic acid – adenosine with a glucose phosphate molecule.
(d) Alanine amino acid – contains an amino group and an acidic group anywhere in the molecule
Question 33. Which purine base is found in RNA?
(a) Thymine
(b) Uracil
(c) Cytosine
(d) Guanine
Question 34. Uridine, present only in RNA is a
(a) nucleoside
(b) nucleotide
(c) purine
(d) pyrimidine.
Question 35. Which of the following glucose transporters is insulin-dependent?
(a) GLUT IV
(b) GLUT I
(c) GLUT II
(d) GLUT III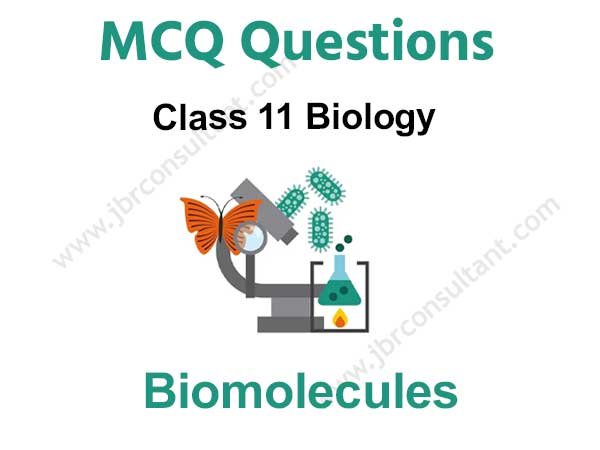 You can easily get good marks If you study with the help of Class 11 Biomolecules MCQ. We trust that information provided is useful for you. NCERT Biomolecules Class 11 MCQ PDF Free Download would without a doubt create positive results.
We hope the information shared above in regards to MCQ on Biomolecules Class 11 with Answers has been helpful to you. if you have any questions regarding CBSE Class 11 BIology Solutions MCQs Pdf, write a comment below and we will get back to you as soon as possible.
Frequently Asked Question (FAQs)
How many MCQ questions are there in Class 11 chapter 9 BIology?

In Class 11 chapter 8 BIology, we have provided 35 Important MCQ Questions, But in the future, we will add more MCQs so that you can get good marks in the Class 11 exam.
Can we score good marks in Class 11 BIology with the help of Biomolecules MCQ Questions?

Yes, MCQ Question is one of the best strategies to make your preparation better for the CBSE Board Exam. It also helps to know the student's basic understanding of each chapter. So, You can score good marks in the Class 11 BIology exam.