Cell The Unit of Life Class 11 MCQ is one of the best strategies to prepare for the CBSE Class 11 Board exam. If you want to complete a grasp concept or work on one's score, there is no method except constant practice. Students can improve their speed and accuracy by doing more MCQ on Plant Kingdom Class 11, which will help them all through their board test.
Cell the Unit of Life Class 11 MCQ Questions with Answers
Class 11 Biology MCQ with answers are given here to chapter 8 Cell The Unit of Life. These MCQs are based on the latest CBSE board syllabus and relate to the latest Class 11 BIology syllabus. By Solving these Class 11 MCQs, you will be able to analyze all of the concepts quickly in the chapter and get ready for the Class 11 Annual exam.
Learn Class 11 Cell The Unit of Life MCQs with answers pdf free download according to the latest CBSE and NCERT syllabus. Students should prepare for the examination by solving CBSE Class 11 Biology Cell The Unit of Life MCQ with answers given below
Question 1. A student wishes to study the cell structure under a light microscope having 10X eyepiece and 45X objective. He should illuminate the object by which one of the following colours of ight so as to get the best possible resolution?
(a) Blue
(b) Green
(c) Yellow
(d) Red
Question 2. Electron microscope has a high resolution power. This is due to
(a) electromagnetic lenses
(b) very low wavelength of electron beam
(c) low wavelength of light source used
(d) high numerical aperture of glass lenses used
Question 3. A major breakthrough in the studies of cells came with the development of electron microscope. This is because
(a) the electron microscope is more powerful than the light microscope as it uses a beam of electrons which has wavelength much longer than that of photons
(b) the resolving power of the electron microscope is much higher than that of the light microscope
(c) the resolving power of the electron microscope is 200 – 350 nm as compared to 0.1 – 0.2 nm for the light microscope
(d) electron beam can pass through thick materials, whereas light microscopy requires thin sections.
Question 4. Which is correct about cell theory in view of current status of our knowledge about cell structure?
(a) It needs modification due to discovery of subcellular structures like chloroplasts and mitochondria.
(b) Modified cell theory means that all living being are composed of cells capable of reproducing.
(c) Cell theory does not hold good because all living beings (e.g., viruses) do not have cellular organisation.
(d) Cell theory means that all living objects consists of cells whether or not capable of reproducing.
Question 5. Magnification of compound microscope is not connected with
(a) numerical aperture
(b) focal length of objective
(c) focal length of eye piece
(d) tube length.
Question 6. The concept of "Omnis cellula-e-cellula" regarding cell division was first proposed by
(a) Aristotle
(b) Rudolf Virchow
(c) Theodore Schwann
(d) Schleiden.
Question 7. Organelles can be separated from cell homogenate through
(a) chromatography (b) X-rays diffraction
(c) differential centrifugation
(d) auto-radiography.
Question 8. Names of Schleiden and Schwann are associated with
(a) protoplasm as the physical basis of life
(b) cell theory
(c) theory of cell lineage
(d) nucleus functions as control centre of cell
Question 9. Angstrom (Å) is equal to
(a) 0.01 mm
(b) 0.001 mm
(c) 0.0001 mm
(d) 0.00001 mm.
Question 10. Which of the following structures is not found in a prokaryotic cell?
(a) Mesosome
(b) Plasma membrane
(c) Nuclear envelope
(d) Ribosome
Question 11. Which of the following statements about inclusion bodies is incorrect?
(a) They are not bound by any membrane.
(b) These are involved in ingestion of food particles.
(c) They lie free in the cytoplasm.
(d) These represent reserve material in cytoplasm.
Question 12. Select the wrong statement.
(a) Bacterial cell wall is made up of peptidoglycan.
(b) Pili and fimbriae are mainly involved in motility of bacterial cells.
(c) Cyanobacteria lack flagellated cells.
(d) Mycoplasma is a wall-less microorganism.
Question 13. Which structures perform the function of mitochondria in bacteria?
(a) Nucleoid
(b) Ribosomes
(c) Cell wall
(d) Mesosomes
Question 14. The structures that help some bacteria to attach to rocks and/or host tissues are
(a) mesosomes
(b) holdfast
(c) rhizoids
(d) fimbriae.
Question 15. Which one of the following is not an inclusion body found in prokaryotes?
(a) Glycogen granule
(b) Polysome
(c) Phosphate granule
(d) Cyanophycean granule
Question 16. The term 'glycocalyx' is used for
(a) a layer present between cell wall and membrane of bacteria
(b) cell wall of bacteria
(c) bacterial cell glyco-engineered to possess N-glycosylated proteins
(d) a layer surrounding the cell wall of bacteria.
Question 17. The motile bacteria are able to move by
(a) fimbriae
(b) flagella
(c) cilia
(d) pili.
Question 18. Why is a capsule advantageous to a bacterium?
(a) It protects the bacterium from desiccation.
(b) It provides means of locomotion.
(c) It allows bacterium to "hide" from host's immune system.
(d) It allows the bacterium to attach to the surface.
Question 19. The site of respiration in bacteria is
(a) ribosome
(b) microsome
(c) episome
(d) mesosome
Question 20. Chromosomes in a bacterial cell can be 1 – 3 in number and
(a) are always circular
(b) are always linear
(c) can be either circular or linear, but never both within the same cell
(d) can be circular as well as linear within the same cell.
Whoever needs to take the CBSE Class 11 Board Exam should look at this MCQ. To the Students who will show up in CBSE Class 11 Biology Board Exams, It is suggested to practice more and more questions. Aside from the sample paper you more likely had solved. These Cell The Unit of Life Class 11 MCQ are ready by the subject specialists themselves.
Question 21. Photosynthetic bacteria have pigments in
(a) chromoplasts
(b) chromatophores
(c) leucoplasts
(d) chloroplasts
Question 22. Which of the following statements regarding mitochondria is incorrect?
(a) Mitochondrial matrix contains single circular DNA molecule and ribosomes.
(b) Outer membrane is permeable to monomers of carbohydrates, fats and proteins.
(c) Enzymes of electron transport are embedded in outer membrane.
(d) Inner membrane is convoluted with infoldings.
Question 23. Which is the important site of formation of glycoproteins and glycolipids in eukaryotic cells?
(a) Endoplasmic reticulum
(b) Peroxisomes
(c) Golgi bodies
(d) Polysomes
Question 24. Which of the following statements is not correct?
(a) Lysosomes are formed by the process of packaging in the endoplasmic reticulum.
(b) Lysosomes have numerous hydrolytic enzymes.
(c) The hydrolytic enzymes of lysosomes are active under acidic pH.
(d) Lysosomes are membrane-bound structures.
Question 25. Match the column I with column II.
Column-I Column-II
A. Golgi apparatus (i) Synthesis of protein
B. Lysosomes (ii) Trap waste and excretory products
C. Vacuoles (iii) Formation of glycoproteins and glycolipids
D. Ribosomes (iv) Digesting biomolecules Choose the right match from options given below.
(a) A-(iii), B-(iv), C-(ii), D-(i)
(b) A-(iv), B-(iii), C-(i), D-(ii)
(c) A-(iii), B-(ii), C-(iv), D-(i)
(d) A-(i), B-(ii), C-(iv), D-(iii)
Question 26. The shorter and longer arms of a submetacentric chromosome are referred to as
(a) m-arm and n-arm respectively
(b) s-arm and l-arm respectively
(c) p-arm and q-arm respectively
(d) q-arm and p-arm respectively.
Question 27. Which of the following pairs of organelles does not contain DNA?
(a) Nuclear envelope and Mitochondria
(b) Mitochondria and Lysosome
(c) Chloroplast and Vacuoles
(d) Lysosomes and Vacuoles
Question 28. Which of the following events does not occur in rough endoplasmic reticulum?
(a) Protein folding
(b) Protein glycosylation
(c) Cleavage of signal peptide
(d) Phospholipid synthesis
Question 29. Which of the following is true for nucleolus?
(a) Larger nucleoli are present in dividing cells.
(b) It is a membrane-bound structure.
(c) It takes part in spindle formation.
(d) It is a site for active ribosomal RNA synthesis.
Question 30. The Golgi complex participates in
(a) fatty acid breakdown
(b) formation of secretory vesicles
(c) respiration in bacteria
(d) activation of amino acid.
Question 31. Select the mismatch.
(a) Gas vacuoles – Green bacteria
(b) Large central vacuoles – Animal cells
(c) Protists – Eukaryotes
(d) Methanogens – Prokaryotes
Question 32. Select the incorrect match.
(a) Lampbrush – Diplotene bivalents chromosomes
(b) Allosomes – Sex chromosomes
(c) Sub-metacentric – L-shaped chromosomes chromosomes
(d) Polytene – Oocytes of chromosomes amphibians
Question 33. Which of the following cell organelles is responsible for extracting energy from carbohydrates to form ATP?
(a) Ribosome
(b) Chloroplast
(c) Mitochondrion
(d) Lysosome
Question 34. Microtubules are the constituents of
(a) centrioles, spindle fibres and chromatin
(b) centrosome, nucleosome and centrioles
(c) cilia, flagella and peroxisomes
(d) spindle fibres, centrioles and cilia.

Question 35. A cell organelle containing hydrolytic enzymes is
(a) lysosome
(b) microsome
(c) ribosome
(d) mesosome.
Question 36. Mitochondria and chloroplast are (A) semi-autonomous organelles (B) formed by division of pre-existing organelles and they contain DNA but lack protein synthesisingmachinery. Which one of the following options is correct?
(a) (A) is true but (B) is false.
(b) Both (A) and (B) are false.
(c) Both (A) and (B) are correct.
(d) (B) is true but (A) is false.
Question 37. Match the columns and identify the correct option.
Column I Column II
A. Thylakoids (i) Disc-shaped sacs in Golgi apparatus
B. Cristae (ii) Condensed structure of DNA
C. Cisternae (iii) Flat membranous sacs in stroma
D. Chromatin (iv) Infoldings in mitochondria
(a) A-(iii), B-(i), C-(iv), D-(ii)
(b) A-(iii), B-(iv), C-(ii), D-(i)
(c) A-(iv), B-(iii), C-(i), D-(ii)
(d) A-(iii), B-(iv), C-(i), D-(ii)
Question 38. Which one of the following cell organelles is enclosed by a single membrane?
(a) Lysosomes
(b) Nuclei
(c) Mitochondria
(d) Chloroplasts
Question 39. Cellular organelles with membranes are
(a) endoplasmic reticulum, ribosomes and nuclei
(b) lysosomes, Golgi apparatus and mitochondria
(c) nuclei, ribosomes and mitochondria
(d) chromosomes, ribosomes and endoplasmic reticulum.
Question 40. Water soluble pigments found in plant cell vacuoles are
(a) carotenoids
(b) anthocyanins
(c) xanthophylls
(d) chlorophylls.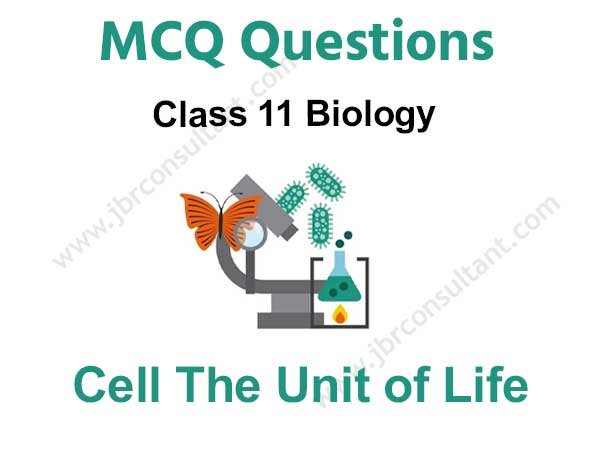 You can easily get good marks If you study with the help of Class 11 Cell The Unit of Life MCQ. We trust that information provided is useful for you. NCERT Cell The Unit of Life Class 11 MCQ PDF Free Download would without a doubt create positive results.
We hope the information shared above in regards to MCQ on Cell The Unit of Life Class 11 with Answers has been helpful to you. if you have any questions regarding CBSE Class 11 BIology Solutions MCQs Pdf, write a comment below and we will get back to you as soon as possible.
Frequently Asked Question (FAQs)
How many MCQ questions are there in Class 11 chapter 8 BIology?

In Class 11 chapter 8 BIology, we have provided 40 Important MCQ Questions, But in the future, we will add more MCQs so that you can get good marks in the Class 11 exam.
Can we score good marks in Class 11 BIology with the help of Cell The Unit of Life MCQ Questions?

Yes, MCQ Question is one of the best strategies to make your preparation better for the CBSE Board Exam. It also helps to know the student's basic understanding of each chapter. So, You can score good marks in the Class 11 BIology exam.