Class 12 Indigo MCQ Questions is one of the best strategies to prepare for the CBSE Class 12 Board exam. If you want to complete a grasp concept or work on one's score, there is no method except constant practice. Students can improve their speed and accuracy by doing more MCQ of Indigo Class 12 which will help them all through their board test.
Class 12 Indigo MCQ Questions with Answer
Class 12 English MCQ with answers are given here to Chapter 5 Indigo. These MCQs are based on the latest CBSE board syllabus and relate to the latest Class 12 English syllabus. By Solving these Class 12 MCQs, you will be able to analyze all of the concepts quickly in the chapter and get ready for the Class 12 Annual exam.
Learn Class 12 Indigo MCQ Questions with answers pdf free download according to the latest CBSE and NCERT syllabus. Students should prepare for the examination by solving the CBSE MCQ of Indigo Class 12 with answers given below.
Question 1. What does Gandhi's fight in Champaran signify?
(a) The power of effective leadership
(b) The power of lawyers
(c) The power of farmers
(d) The power of money
Question 2. Gandhi knew that he would not get an agreement on the demand for 50% repayment.
Choose the option that offers the correct justification for the assumption made above.
(a) He had anticipated the negotiating tactics of the planter's representative.
(b) He had been informed about the depleting funds of the planters.
(c) He had taken the advice of the Reverend on boar(d)
(d) He had evaluated the commission's attitude towards Indians.
Question 3. Gandhi's protest is most appropriately a great model of
(a) power
(b) leadership
(c) charity
(d) sponsorship
Question 4. Why did the British want the peasant to pay compensation?
(a) because they freed them from contract
(b) because they got orders from the British headquarters
(c) because they were at a loss
(d) because the peasants were at a loss
Question 5. Why did Gandhi start out on the back of an elephant?
(a) a peasant had been maltreated in a village nearby
(b) he set out to meet the secretary of British Landlords Association
(c) he set out to meet British official commissioner
(d) he was summoned by Sir Edward Gait, the Lt. Governor
Question 6. Why was Gandhi not permitted to draw water from Rajendra Prasad's well?
(a) the servant thought Gandhi was another peasant
(b) as Rajendra Prasad was not at home
(c) Gandhi looked like a vagabond
(d) Gandhi was a Harijan
Question 7. In whose house did Gandhi stay at Muzaffarpur?
(a) Professor J B Kriplani
(b) Professor Malkani
(c) Rajkumar Shukla
(d) Rajendra Prasad
Question 8. Why did Gandhi feel that Rajkumar Shukla looked like any other peasant in India?
(a) Because he was from Champaran
(b) Because he sought help from Gandhi like many other peasants
(c) Because he looked poverty-stricken and miserable
(d) All of the above
Question 9. Why did Mr. Shukla meet Gandhiji?
(a) to seek his guidance for his own upliftment
(b) to get ideas to be famous
(c) to learn the art of speaking
(d) to seek his help for the poor sharecroppers
Question 10. Which of the following sentences has a near meaning of the word "irksome" as used in the chapter 'Indigo'?
(a) Nandini found the process of joining online classes irksome; offline classes in school were much better.
(b) The behaviour of this boy is irksome and impertinent.
(c) This web series is irksome and not at par with the one I watched last month.
(d) I found this exercise tiring and irksome; I shall never do it again.
Question 11. What was the first sign of the peasants' liberation from fear of the British?
(a) Their revolting against sharecropping.
(b) Their act of seeking help from the Mahatm(a)
(c) Their spontaneous demonstration around the courthouse of Motihari to support their saviour (Gandhi)
(d) Their disagreement to sign the papers for compensation from indigo sharecropping.
Question 12. Which of the following sentences would concur with the meaning of "baffled" as found in 'Indigo'?
(a) The situation baffled the experienced detective and he took long to solve the case.
(b) The sound of gunshot was baffled by the noisy drumbeats coming from the party in the neighbouring clu(b)
(c) The solid object baffled the flow of the liqui(d)
(d) She baffled me with her humorous speech.
Question 13. What would be a "shameful desertion" according to Gandhi?
(a) His leaving the peasants at their fate's en(d)
(b) His abandoning the peasants after the battle of Champaran was won.
(c) The lawyers' disagreeing to guide the peasants if Gandhi was arreste(d)
(d) His incompliance with the Governor of Champaran.
Question 14. Why did Gandhi not want Andrews' help in the fight against the Britishers?
(a) Gandhi believed in self-reliance.
(b) Gandhi did not want the Indians to be weak.
(c)Andrews could be a spy.
Choose the correct options:
(a) A and B
(b) B and C
(c) C and A
(d) A,B and C
Question 15. To break the DEADLOCK Gandhiji accepted 25% refund from the representatives of planters. Given below are four real life situations. Choose the option that perfectly describes a DEADLOCK.
| | | | |
| --- | --- | --- | --- |
| Situation 1 | Situation 2 | Situation 3 | Situation 4 |
| Tariq is unable to manage the front end and the backend forums at his company without any support. | Sunita cannot get a job because she has no experience and she can't have any experience because she has no job. | The bank employees started protesting against their receding annual salary and other incentives. | Harpeet was stuck between deciding whether to go to the USA or the UK for higher studies. |
(a) Situation 1
(b) Situation 2
(c) Situation 3
(d) Situation 4
Question 16. Why did the British landlords want compensation from the sharecroppers?
(a) They were afraid the price of indigo could fall.
(b) They could not compete with synthetic indigo manufactured by Germany.
(c) They knew the sharecroppers were illiterate and so the Britishers could deceive them.
(d) All of the above
Whoever needs to take the CBSE Class 12 Board Exam should look at this MCQ. To the Students who will show up in CBSE Class 12 English Board Exams, It is suggested to practice more and more questions. Aside from the sample paper you more likely had solved. These Indigo Class 12 MCQ are ready by the subject specialists themselves.
Read the extract given below and answer the questions that follow:
Gandhi told Shukla he had an appointment in Cawnpore and was also committed to go to other parts of India. Shukla accompanied him everywhere. Then Gandhi returned to his ashram near Ahmedabad. Shukla followed him to the ashram. For weeks he never left Gandhi`s side. "Fix a date," he begged.
Question 1. What does Shukla`s following Gandhiji everywhere reflect about his nature?
(a) Sheer determination
(b) Obstinate nature
(c) Obsequiousness
(d) Shamelessness
Question 2. For how long did Shukla remain with Gandhiji?
(a) For several weeks
(b) For few months
(c) For a year
(d) For few days.
Question 3. Why was Gandhiji going to Cawnpore?
(a) To attend his relatives
(b) To attend some family functions.
(c) Due to some appointment.
(d) To his ancestral house.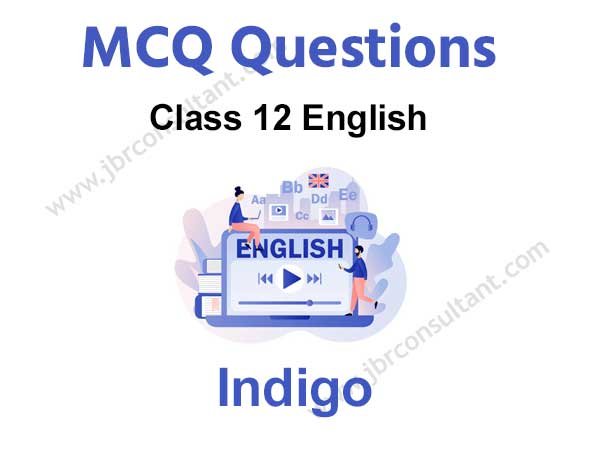 You can easily get good marks If you study with the help of MCQ of Indigo Class 12. We trust that information provided is useful for you. NCERT Class 12 Indigo MCQ Questions Free PDF Download would without a doubt create positive results.
We hope the information shared above in regards to Indigo Class 12 MCQ with Answers has been helpful to you. if you have any questions regarding CBSE Class 12 Indigo MCQ Questions Pdf, write a comment below and we will get back to you as soon as possible.
Frequently Asked Question (FAQs)
How many MCQ questions are there in Class 12 English Flamingo Chapter 5?

In Class 12 English Flamingo chapter 5, we have provided 19 Important MCQ Questions, But in the future, we will add more MCQs so that you can get good marks in the Class 12 exam.
Can we score good marks in Class 12 English with the help of Indigo MCQ Questions?

Yes, MCQ Question is one of the best strategies to make your preparation better for the CBSE Board Exam. It also helps to know the student's basic understanding of each chapter. So, You can score good marks in Class 12 English exam.