Class 12 Haloalkanes and Haloarenes MCQ is one of the best strategies to prepare for the CBSE Class 12 Board exam. If you want to complete a grasp concept or work on one's score, there is no method except constant practice. Students can improve their speed and accuracy by doing more MCQ questions on Haloalkanes and Haloarenes Class 12 which will help them all through their board test.
Class 12 Haloalkanes and Haloarenes MCQ with answers
Class 12 Chemistry MCQ with answers are given here to chapter Haloalkanes and Haloarenes . These MCQs are based on the latest CBSE board syllabus and relate to the latest Class 12 Chemistry syllabus. By Solving these Class 12 MCQs, you will be able to analyze all of the concepts quickly in the chapter and get ready for the Class 12 Annual exam.
Learn Haloalkanes and Haloarenes Class 12 MCQ with answers PDF with answers pdf free download according to the latest CBSE and NCERT syllabus. Students should prepare for the examination by solving Class 12 Haloalkanes and Haloarenes MCQs with answers pdf given below.
Question 1. Elimination reaction of 2-bromopentane to form pent-2-ene is
(A) b-Elimination reaction
(B) Follows Zaitsev rule
(C) Dehydrohalogenation reaction
(D) Dehydration reaction
(a) (A), (B), (C)
(b) (A), (C), (D)
(c) (B), (C), (D)
(d) (A), (B), (D)
Question 2. The reaction of C6H5CH CHCH3 with HBr produces
(a) C6H5CH2CH2CH2Br
The reaction will be most favourable if M happens to be
(a) Na
(b) K
(c) Rb
(d) Li
Question 3. When chlorine is passed through propene at 400°C,which of the following is formed?
(a) PVC
(b) Allyl chloride
(c) Propyl chloride
(d) 1, 2-Dichloroethane
Question 4. The compound C7H8 undergoes the following reactions :
The product C is
(a) m-bromotoluene
(b) o-bromotoluene
(c) 3-bromo-2,4,6-trichlorotoluene
(d) p-bromotoluene.
Question 5. Consider the reaction, CH3CH2CH2Br + NaCN →CH3CH2CH2CN + NaBr
This reaction will be the fastest in
(a) ethanol
(b) methanol
(c) N, N -dimethylformamide (DMF)
(d) water.
Question 6. The compound A on treatment with Na gives B, and with PCl5 gives C. B and C react together to give diethyl ether. A, B and C are in the order
(a) C2H5OH, C2H6, C2H5Cl
(b) C2H5OH, C2H5Cl, C2H5 ONa
(c) C2H5Cl, C2H6, C2H5 OH
(d) C2H5OH, C2H5ONa, C2H5 Cl
Question 7. Which of the following acids does not exhibit optical isomerism?
(a) Maleic acid
(b) a-Amino acids
(c) Lactic acid
(d) Tartaric acid
Question 8. Two possible stereo-structures of CH3CHOHCOOH,which are optically active, are called
(a) atropisomers
(b) enantiomers
(c) mesomers
(d) diastereomers.
Question 9. In an SN1 reaction on chiral centres, there is
(a) inversion more than retention leading to partial racemisation
(b) 100% retention
(c) 100% inversion
(d) 100% racemisation.
Question 10. Which of the following reactions is an example of nucleophilic substitution reaction?
(a) 2RX + 2Na R – R + 2NaX
(b) RX + H2 RH + HX
(c) RX + Mg RMgX
(d) RX + KOH ROH + KX
Question 11. Among the following which one has weakest carbon-halogen bond?
(a) Benzyl bromide
(b) Bromobenzene
(c) Vinyl bromide
(d) Benzyl chloride
Question 12. Which one is most reactive towards SN1 reaction?
(a) C6H5CH(C6H5)Br
(b) C6H5CH(CH3)Br
(c) C6H5C(CH3)(C6H5)Br
(d) C6H5CH2Br
Question 13. The compound formed on heating chlorobenzene with chloral in the presence of concentrated sulphuric acid is
(a) gammexane
(b) DDT
(c) freon
(d) hexachloroethane
Question 14. X →HNO3AgNO3 yellow or white ppt Which of the following cannot be X?

Question 15. Which one of the following chlorohydrocarbons readily undergoes solvolysis ?

Question 16. The reaction of toluene with Cl2 in presence of FeCl3 gives predominantly
(a) benzoyl chloride
(b) benzyl chloride
(c) o and p-chlorotoluene
(d) m-chlorotoluene
Question 17. Fluorobenzene (C6H5F) can be synthesised in the laboratory
(a) by heating phenol with HF and KF
(b) from aniline by diazotisation followed by heating the diazonium salt with HBF4
(c) by direct tluorination of benzene with F2 gas
(d) by reacting bromobenzene with NaF solution
Question 18. Which of the following statements about benzyl chloride is incorrect?
(a) It is less reactive than alkyl halides
(b) It can be oxidised to benzaldehyde by boiling with copper nitrate solution
(c) It is a lachrymatory liquid and answers Beilstein's test
(d) It gives a white precipitate with alcoholic silver nitrate
Question 19. Chlorobenzene gives aniline with
(a) NH3/Cu2O
(b) NH3/H2SO4
(c) NaNH2
(d) None of these
Question 20. Chlorination of toluene in the presence of light and heat followed by treatment with aqueous NaOH gives
(a) o-cresol
(b) p-cresol
(c) mixture of o-cresol and p-Cresol
(d) benzoic acid
(e) 1, 3, 5-trihydroxy toluene
Whoever needs to take the CBSE Class 12 Board Exam should look at this MCQ. To the Students who will show up in CBSE Class 12 Chemistry Board Exams, It is suggested to practice more and more questions. Aside from the sample paper you more likely had solved. These Class 12 Haloalkanes and Haloarenes MCQ PDF are ready by our subject specialists themselves.
Question 21. Decomposition of benzene diazonium chloride by using Cu2Cl2 / HCI to form chlorobenzene is
(a) Raschig reaction
(b) Sandmeyer's reaction
(c) Kolbe's reaction
(d) Cannizzaro's reaction
Question 22. Which of the following is not chiral?
(a) 2-Hydroxypropanoic acid
(b) 2-Butanol
(c) 2,3-Dibromopentane
(d) 3-Bromopentane
Question 23. Which of the following undergoes nucleophilic substitution exclusively by SN1 mechanism?
(a) Ethyl chloride
(b) Isopropyl chloride
(c) Chlorobenzene
(d) Benzyl chloride
Question 24 . How many stereoisomers does this molecule have? CH3CH CHCH2CHBrCH3
(a) 8
(b) 2
(c) 4
(d) 6
Question 25. If there is no rotation of plane polarised light by a compound in a specific solvent, though to be chiral, it may mean that
(a) the compound is certainly meso
(b) there is no compound in the solvent
(c) the compound may be a racemic mixture
(d) the compound is certainly a chiral.
Question 26. obtained by chlorination of n-butane will be
(a) meso form
(b) racemic mixture
(c) d-form
(d) l-form.
Question 27. Which of the following is least reactive in a nucleophilic substitution reaction?
(a) (CH3)3C – Cl
(b) CH2 = CHCl
(c) CH3CH2Cl
(d) CH2 = CHCH2Cl
Question 28. Reactivity order of halides for dehydrohalogenation is
(a) R – F > R – Cl > R – Br > R – I
(b) R – I > R – Br > R – Cl > R – F
(c) R – I > R – Cl > R – Br > R – F
(d) R – F > R – I > R – Br > R – Cl
Question 29. A compound of molecular formula C7H16 shows optical isomerism, compound will be
(a) 2,3-dimethylpentane
(b) 2,2-dimethylbutane
(c) 2-methylhexane
(d) none of these.
Question 30. Which of the following compounds is not chiral?
(a) CH3CHDCH2Cl
(b) CH3CH2CHDCl
(c) DCH2CH2CH2Cl
(d) CH3CHClCH2D
Question 31. An organic compound A(C4H9Cl) on reaction with Na/diethyl ether gives a hydrocarbon which on monochlorination gives only one chloro derivative then, A is
(a) t-butyl chloride
(b) s-butyl chloride
(c) iso-butyl chloride
(d) n-butyl chloride.
Question 32. Replacement of Cl of chlorobenzene to give phenol requires drastic conditions. But chlorine of 2,4-dinitrochlorobenzene is readily replaced because
(a) NO2 donates e– at meta position
(b) NO2 withdraws e– from ortho/para positions
(c) NO2 makes ring electron rich at ortho and para
(d) NO2 withdraws e– from meta position.
Question 33. Grignard reagent is prepared by the reaction between
(a) magnesium and alkane
(b) magnesium and aromatic hydrocarbon
(c) zinc and alkyl halide
(d) magnesium and alkyl halide.
Question 34. Chlorobenzene reacts with Mg in dry ether to give a compound (A) which further reacts with ethanol to yield
(a) phenol
(b) benzene
(c) ethyl benzene
(d) phenyl ether.
Question 35. The alkyl halide is converted into an alcohol by
(a) elimination
(b) dehydrohalogenation
(c) addition
(d) substitution.
Question 36. Reaction of t-butyl bromide with sodium methoxide produces
(a) sodium t-butoxide
(b) t-butyl methyl ether
(c) isobutane
(d) isobutylene.
Question 37. Benzene reacts with n-propyl chloride in the presence of anhydrous AlCl3 to give
(a) 3-propyl-1-chlorobenzene
(b) n-propylbenzene
(c) no reaction
(d) isopropylbenzene.
Question 38. Phosgene is a common name for
(a) phosphoryl chloride
(b) thionyl chloride
(c) carbon dioxide and phosphine
(d) carbonyl chloride.
Question 39. Which of the following is an optically active compound?
(a) 1-Butanol
(b) 1-Propanol
(c) 2-Chlorobutane
(d) 4-Hydroxyheptane
Question 40. Industrial preparation of chloroform employs acetone and
(a) phosgene
(b) calcium hypochlorite
(c) chlorine gas
(d) sodium chloride.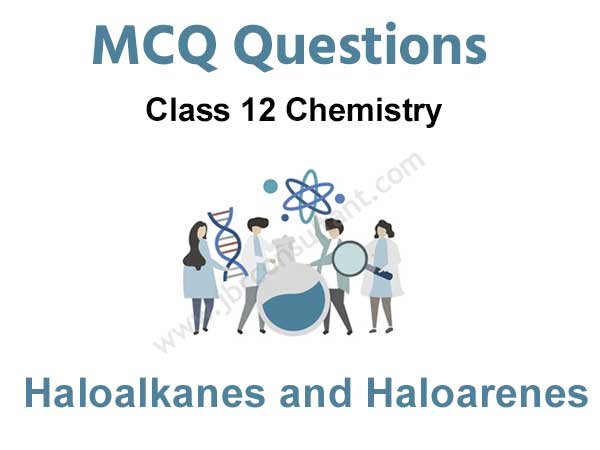 You can easily get good marks If you study with the help of Class 12 Haloalkanes and Haloarenes MCQ with answers. We trust that information provided is useful for you. NCERT MCQ Questions for Haloalkanes and Haloarenes PDF Free Download would without a doubt create positive results.
We hope the information shared above in regards to MCQ questions on Haloalkanes and Haloarenes Class 12 with answers has been helpful to you. if you have any questions regarding CBSE Haloalkanes and Haloarenes Class 12 MCQ PDF write a comment below and we will get back to you as soon as possible.
Frequently Asked Question (FAQs)
How many MCQ questions are there in Class 12 Chemistry Chapter 10?

In Class 12 Chemistry Chapter 10, we have provided 40 Important MCQ Questions, But in the future, we will add more MCQs so that you can get good marks in the Class 12 exam.
Can we score good marks in Class 12 Chemistry with the help of Haloalkanes and Haloarenes MCQ Questions?

Yes, MCQ Question is one of the best strategies to make your preparation better for the CBSE Board Exam. It also helps to know the student's basic understanding of each chapter. So, You can score good marks in the Class 12 Chemistry exam.