Kings And Chronicles Class 12 MCQ is one of the best strategies to prepare for the CBSE Class 12 Board exam. If you want to complete a grasp concept or work on one's score, there is no method except constant practice. Students can improve their speed and accuracy by doing more MCQ on Kings And Chronicles class 12, which will help them all through their board test.
Kings And Chronicles Class 12 MCQ Questions with Answer
Class 12 History MCQ with answers are given here to chapter 9 Kings And Chronicles. These MCQs are based on the latest CBSE board syllabus and relate to the latest Class 12 History syllabus. By Solving these Class 12 MCQs, you will be able to analyze all of the concepts quickly in the chapter and get ready for the Class 12 Annual exam.
Learn Class 12 Kings And Chronicles MCQs with answers pdf free download according to the latest CBSE and NCERT syllabus. Students should prepare for the examination by solving CBSE Class 12 History Kings And Chronicles MCQ with answers given below
Question 1: Who is said to be the founder of the Mughal Empire?
(a) Nasiruddin Humayun
(b) Timur
(c) Ghenghiz Khan
(d) Zahiruddin Babur
Question 2: What is meant by literal term of Kitabkhana?
(a) Book of Philosophy
(b) Book of Politics
(c) Library
(d) None of the above
Question 3: With which Mughal Emperor can we associate 'Alamgir Nama'?
(a) Aurangzeb
(b) Shah Jahan
(c) Humanyun
(d) Jahangir
Question 4: Which of these languages flourished under the Mughal rule?
(a) English
(b) Persian
(c) Hindavi
(d) Both (b) and (c)
Question 5: ________ a pupil of Abul Fazal is known as its author.
(a) Abdul Hamid Khan
(b) Abdul Hamid Indori
(c) Abdul Hamid Jaipuriya
(d) Abdul Hamid Lahori
Question 6: What led to the diminishing of Mughal power?
(a) Death of Aurangzeb in 1706
(b) Shifting of Mughal capital
(c) Death of Aurangzeb in 1707
(d) None of these
Question 7: When did Akbar build a new capital at Fatehpur Sikri?
(a) 1500s
(b) 1520s
(c) 1570s
(d) 1750s
Question 8: ________ is considered the greatest Mughal Emperor.
(a) Shahjehan
(b) Akbar
(c) Jehangir
(d) Aurangzeb
Question 9: Mother tongue of the Mughals was _______
(a) Persian
(b) Arabian
(c) Turkish
(d) Urdu
Question 10: Which of the following was introduced by Akbar with the aim of popularly accepting the imperial authority as part of popular faith?
(a) Jharokha Darshan
(b) Aghas
(c) Polygamy
(d) None of these
Question 11: In Mughal administration, the court writers who recorded all court documents and imperial orders were called:
(a) Qazis.
(b) Wakil.
(c) Mir Bakhshi.
(d) Waqia Nawis.
Question 12: Shah Jahan's jewelled throne is described in which Mughal chronicle?
(a) Badshah Nama
(b) Ain-i-Akbari
(c) Akbar Nama
(d) Humayun Nama
Question 13: Which of the following was written by Gulbadan Begum?
(a) Badshah Nama
(b) Akbar Nama
(c) Babur Nama
(d) Humayun Nama
Question 14: Which Mughal ruler commissioned the construction of a white marble tomb for Shaikh Salim Chisti?
(a) Babur
(b) Humayun
(c) Akbar
(d) Jahangir
Question 15: The mother tongue of Mughal Dynasty was
(a) Persian.
(b) Turkish.
(c) Arabic.
(d) Greek.
Question 16: With which of the following responsibilities, Mir Bakshi the officer in Akbar's reign was entrusted?
(a) Revenue Collection
(b) Payment of Salaries
(c) Head of the military administration
(d) Head of Nobility
Question 17: The first Jesuit mission left the Mughal court at Fatehpur Sikri around
(a) 1580 AD.
(b) 1581 AD.
(c) 1582 AD.
(d) 1583 AD.
Question 18: Who was requested by Akbar to write the history of earlier times under Babar and Humayun?
(а) Gulbadan Begum
(b) Abul Fazl
(c) Abdus Samad Lahori
(d) None of these
Whoever needs to take the CBSE Class 12 Board Exam should look at this MCQ. To the Students who will show up in CBSE Class 12 History Board Exams, It is suggested to practice more and more questions. Aside from the sample paper you more likely had solved. These Kings And Chronicles Class 12 MCQ are ready by the subject specialists themselves.
Question 19: Which among the following statements is incorrect about Mughal Empire and its rulers?
(a) The name Mughal derives from Mongol but today the term evokes the grandeur of an empire, it was not the name the rulers of the dynasty chose for themselves.
(b) Mughal rulers referred to themselves as Timurids, as descendants of the Turkish ruler Timur on the paternal side.
(c) Humayun, the first Mughal ruler, was related to Ghenghiz Khan from his mother's side and he spoke Turkish and referred derisively to the Mongols as barbaric hordes.
(d) During the sixteenth century, Europeans used the term Mughal to describe the Indian rulers of this branch of the family.
Question 20: Which of the following religions was Akbar keen to know about?
(a) Islam
(b) Buddhism
(c) Christianity
(d) None of the above
Question 21: Which of the following statements is/are correct about Mughal Chronicles?
(i) Chronicles commissioned by the Mughal emperors are an important source for studying the empire and its court.
(ii) The Mughal chronicles were written in order to project a vision of an enlightened kingdom to all those who came under its umbrella.
(iii) At the same time they were meant to convey to those who resisted the rule of the Mughals that all resistance was destined to fail and also, the rulers wanted to ensure that there was an account of their rule for posterity. (iv) Mughal court chronicles were written in Arabic. All though the Mughals were Persian by origin, Persian was their mother tongue.
Which of the following statement(s) is/are correct?
(a) (i), (ii), (iii)
(b) (ii), (iii), (iv)
(c) (i), (iii), (iv)
(d) All of the above.
Question 22: Which of these was a distinctive feature of Mughal nobility?
(a) It consisted of people from diverse ethnic and religious groups.
(b) It used modern weapons.
(c) It was paid in kind instead of cash/currency.
(d) It consisted of women.


Question 23: Humayun expanded the frontiers of the empire, but lost it after being defeated in 1540, and was driven into exile. He took refuge after this loss. Where he took the refuge?
(a) Mings of China
(b) Uzbeks of Uzbekistan
(c) Chaghtai's of Turkey
(d) Safavid's of Iran
Question 24: Which of the following Mughal emperors wrote poetry and memoirs in Turkish language?
(a) Akbar
(b) Babur
(c) Humayun
(d) Aurangzeb
Question 25: Gulbadan Begum was the aunt of
(a) Babur.
(b) Humayun.
(c) Akbar
(d) Sher Shah.
Question 26: In which year did Babur come to India?
(a) 1523
(b) 1524
(c) 1525
(d) 1526
Question 27: Which Mughal ruler made Persian the language of the court?
(a) Babur
(b) Humayun
(c) Akbar
(d) Shah Jahan
Question 28: Which among the following statement(s) is/are correct regarding the shifting of capitals between the 15th to 16th centuries?
(i) During the 1560s Akbar had the fort of Agra constructed with red sandstone quarried from the adjoining regions.
(ii) In the 1570s, he decided to build a new capital, Fatehpur Sikri. One of the reasons prompting this may have been that Sikri was located on the direct road to Ajmer, where the dargah of Shaikh Muinuddin Chishti had become an important pilgrimage centre.
(iii) In 1585, the capital was transferred to Lahore to bring the North-West under greater control and Akbar closely watched the frontier for thirteen years.
(iv) In 1648 the court, army and household moved from Agra to the newly completed imperial capital, Shahjahanabad.
Which of the following statement(s) is/are correct?
(a) (i), (ii), (iii)
(b) (ii), (iii), (iv)
(c) (i), (iii), (iv)
(d) All of the above.
Question 29: _____ was a form of ceremonial salutation in which the courtier placed the palm of his right hand against his forehead and bent his head suggesting that the subject has placed his head – the seat of the senses and the mind – into the hand of humility, presenting it to the royal assembly.
(a) Axis Mundi
(b) Kornish
(c) Paibos
(d) Sajda
Question 30: During whose reign did William Hawkins visit the Mughal court to secure a right to trade in Mughal ports?
(a) Jahangir
(b) Akbar
(c) Shah Jahan
(d) Aurangzeb
Question 31: The Mughal School of Painting was interested in portraying:
(a) Mughal court
(b) Domestic subjects
(c) Scenes from the Indian classics
(d) The scenes of their motherland
Question 32: The Mughal kings celebrated three major festivals in a year. Identify the festival which is not included as major festivals.
(a) The Solar and Lunar birthdays of the monarch and Nauroz.
(b) the Iranian New Year on the vernal equinox
(c) Emperor's Birthday
(d) English New Year
Question 33: Mansabdari System was founded by Akbar. The Mansabdars were
(a) military commanders
(b) provincial governors
(c) high civil and military officers
(d) all of the above
Question 34: Which of the following was built by Akbar to commemorate his conquest of Khandesh in Gujarat?
(a) Bada Imambara
(b) Buland Darwaza
(c) Jama Masjid
(d) Siddi Bashir
Question 35: Akbar's concept of Sulh-i-kul (or Qul) means:
(a) friendship and goodwill to all
(b) common brotherhood
(c) fraternity and friendship
(d) harmony and peace to all
Question 36: What was the name of the Hall of Worship constructed by Akbar?
(a) Diwan-e-khas
(b) Diwan-e-Aam
(c) Ibadat Khana
(d) Buland Darwaza
Question 37: Bahadur Shah was the
(a) Last ruler of the Lodis
(b) Successor of Sher Shah Suri
(c) Last Mughal ruler
(d) Successor of the Maratha ruler Shivaji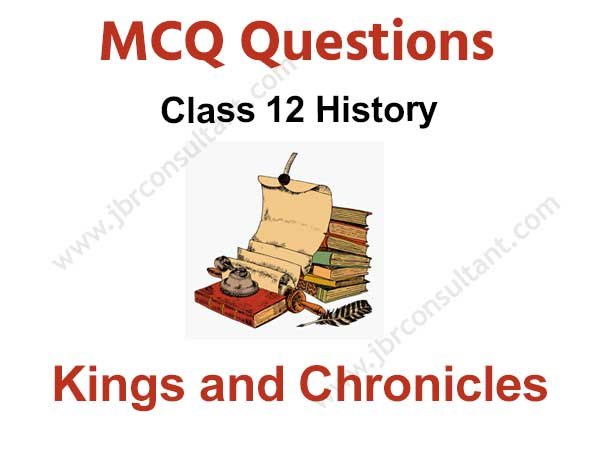 You can easily get good marks If you study with the help of Class 12 Kings And Chronicles MCQ. We trust that information provided is useful for you. NCERT Kings And Chronicles Class 12 MCQ PDF Free Download would without a doubt create positive results.
We hope the information shared above in regards to MCQ on Kings And Chronicles Class 12 with Answers has been helpful to you. if you have any questions regarding CBSE Class 12 History Solutions MCQs Pdf, write a comment below and we will get back to you as soon as possible.
Frequently Asked Question (FAQs)
How many MCQ questions are there in Class 12 chapter 9 History?

In Class 12 chapter 9 History, we have provided 37 Important MCQ Questions, But in the future, we will add more MCQs so that you can get good marks in the Class 12 exam.
Can we score good marks in Class 12 History with the help of Kings And Chronicles MCQ Questions?

Yes, MCQ Question is one of the best strategies to make your preparation better for the CBSE Board Exam. It also helps to know the student's basic understanding of each chapter. So, You can score good marks in the Class 12 History exam.