Therapeutic Approaches Class 12 MCQ is one of the best strategies to prepare for the CBSE Class 12 Board exam. If you want to complete a grasp concept or work on one's score, there is no method except constant practice. Students can improve their speed and accuracy by doing more MCQ on Therapeutic Approaches class 12, which will help them all through their board test.
Therapeutic Approaches Class 12 MCQ Questions with Answers
Psychology Class 12 MCQ with answers are given here to chapter 5 Therapeutic Approaches. These MCQs are based on the latest CBSE board syllabus and relate to the latest Class 12 Psychology syllabus. By Solving these Class 12 MCQ, you will be able to analyze all of the concepts quickly in the chapter and get ready for the Class 12 Annual exam.
Learn Therapeutic Approaches Class 12 MCQ with answers pdf free download according to the latest CBSE and NCERT syllabus. Students should prepare for the examination by solving CBSE Class 12 Psychology Therapeutic Approaches MCQ with answers given below.
Question 1. The psychological model that explains abnormal behaviour in the light of learning maladaptive ways is:
(a) Cognitive Model
(b) Behavioural Model
(c) Psychodynamic Model
(d) Social Model
Question 2. Repeated association of undesired response with an aversive consequence refers to
(a) positive reinforcement
(b) aversive conditioning
(c) negative reinforcement
(d) modelling
Question 3. Learning behaviour by observing the behaviour of a role model is known as
(a) positive reinforcement
(b) aversive conditioning
(b) negative reinforcement
(d) modelling
Question 4. Read the matches given below and identify the correct match.
List A List B
(i) RET (a) Psychodynamic therapy
(ii) Transference (b) Behaviour therapy
(iii) Token economy (c) Existential therapy
(iv) Logo therapy (d) Cognitive therapy
Answer

(a)–(iv), (b)–(i), (c)–(ii), (d)–(iii)
Question 5. Match the following:
(i) Cognitive therapy (a) Albert Ellis
(ii) RET (b) Fritz Perls
(iii) Gestalt therapy (c) Beck
(iv) Logotherapy (d) Frankl
Options
(a) (i)-(d), (ii)-(c), (iii)-(b), (iv)-(a)
(b) (i)-(c), (ii)-(a), (iii)-(d), (iv)-(b)
(c) (i)-(b), (ii)-(c), (iii)-(d), (iv)-(a)
(d) (i)-(c), (ii)-(a), (iii)-(b), (iv)-(d)
Question 6.______________ is a procedure in which relaxation and pleasant feelings are learned as conditioned responses to stimuli that once acted as fear procedure
(a) sublimation
(b) rationalization
(c) systematic desensitization
(d) none of the above
Question 7. Unwanted behaviour can be reduced and wanted behaviour can be increased simultaneously through:
(a) positive reinforcement
(b) differential reinforcement
(c) negative reinforcement
(d) aversive conditioning
Question 8. People have 'freedom and choices' is the core assumption of _____________ therapy.
(a) cognitive
(b) gestalt
(c) behaviour
(d) client-centred
Question 9. RET (Rational Emotive Therapy) has been proposed by
(a) Abraham Maslow
(b) Albert Ellis
(c) Aaron Beck
(d) Carl Rogers
Whoever needs to take the CBSE Class 12 Board Exam should look at this MCQ. To the Students who will show up in CBSE Class 12 Psychology Board Exams, It is suggested to practice more and more questions. Aside from the sample paper you more likely had solved. These Therapeutic Approaches class 12 MCQ are ready by the subject specialists themselves.
Fill in the blanks
Question 1. Electro-convulsive therapy (ECT) is a form of _______________ therapy.
Question 2. What is bottled up, gets an outlet. This process is called _____________.
Question 3. _____________ reinforcement is following undesirable response with an outcome that is painful or not liked.
Question 4. The technique used for treating phobias or irrational fears is _____________.
Answer

Systematic desensitization
Question 5. Learning by observing others and rewarding small changes is a process of_______________ learning.
Question 6. ______________ combines cognitive therapy with behavioural techniques.
Question 7. Empathy means understanding things from other person's perspective.
Question 8. __________ is the ability to understand the feelings of the other person as if it were your own.
Question 9. In psychoanalysis, the important methods are free association and _____________.
Answer

Dream Analysis/Dream Interpretation
Question 10. The German word Gestalt means ______________.
True/False
Question 1. If a child gives trouble in eating dinner, an antecedent operation would be to praise the child, every time he finishes dinner.
Question 2. Conscious resistance is present when client deliberately hides some information.
Question 3. In the negative transference, the client idolises, or falls in love with the therapist, and seeks the therapist's approval.
Question 4. Client-centred therapy focuses on creating unconditional positive regard in the client.
Question 5. Psychotherapies aim at changing maladaptive behaviour and helping the client to adapt better to his environment.
Question 6. In ECT, strong electric shocks are given via electrodes to the brain of the patient to induce convulsions by the psychiatrist.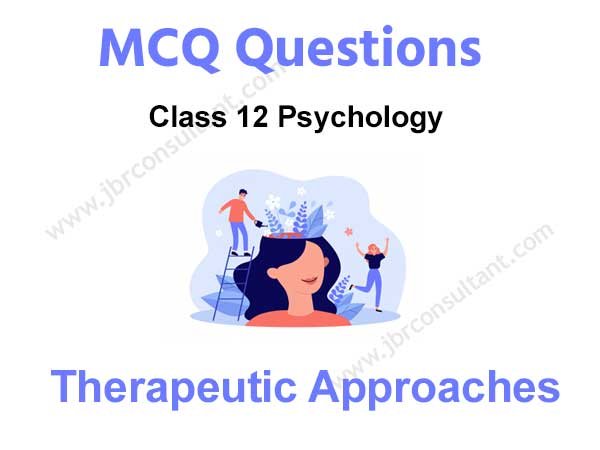 You can easily get good marks If you study with the help of Class 12 Therapeutic Approaches MCQ. We trust that information provided is useful for you. NCERT MCQ Questions for Class 12 Therapeutic Approaches PDF Free Download would without a doubt create positive results.
We hope the information shared above in regards to MCQ on Therapeutic Approaches Class 12 with Answers has been helpful to you. if you have any questions regarding CBSE Class 12 Psychology Solutions MCQs Pdf, write a comment below and we will get back to you as soon as possible.
Frequently Asked Question (FAQs)- Therapeutic Approaches Class 12 MCQ
How many MCQ questions are there in Class 12 Chapter 5 Psychology?

In Class 12 Chapter 5 Psychology, we have provided 25 Important MCQ Questions, But in the future, we will add more MCQs so that you can get good marks in the Class 12 exam.
Can we score good marks in Class 12 Psychology with the help of Therapeutic Approaches MCQ Questions?

Yes, MCQ Question is one of the best strategies to make your preparation better for the CBSE Board Exam. It also helps to know the student's basic understanding of each chapter. So, You can score good marks in the Class 12 Psychology exam.